Arm balances is something that I've been always fascinated by and I've always admired people that could gracefully lift their legs off the ground into a handstand or another cool arm balance pose. I've seen people of all ages and sizes being able to control their body in positions that I can only dream off. For now. That doesn't mean that you and I can't get there tho. If you see someone doing some sport, exercise, or move that inspires you, then remember that it's just another human being that has dedicated the time to learn a skill. If they can do it, so can we!
It's important to realize tho, that without a practice and consistency, there won't be any results. That's why I decided to start this 10 week arm balance challenge to get you and me off the couch every day and learn the skill of arm balancing literally step by step. Watch this video and then read on.
This is the first video of our new challenge and there will be 10 videos total. This is going to take us 10 weeks, which should give us enough time to make some good progress. Your goal is to practice every day what you learn in this video until I release the next video. Every new lesson is going to be more challenging than the last one, but if you'll practice every day, you'll be ready for it. How long should you spend every day practicing? I don't believe in drilling a new skill for hours. Less is sometimes more, so I suggest that you take 10 – 15 minutes a day to practice including stretching and some upper body and core exercises (planks, push ups) that I show in the video. You can even spread your practice into shorter sessions multiple times a day.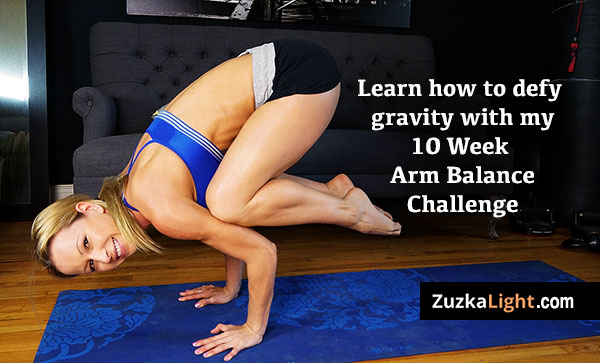 In addition to that I suggest that you engage in a regular strength, cardio, and endurance training by joining the Zgym and working out with me at least 5 days a week. Don't be scared and don't feel intimidated. My workouts are generally 15 minutes long and you can do them at home or take them outside. You'll get into an awesome shape and feel amazing every single day. 
I would like us to have fun with it and connect more on our social media to show the world what we've learned and support each other through the process. Post pictures of yourself  every single day on your Facebook, Twitter, and Instagram practicing your arm balances with #10WeekArmBalanceChallenge so that we can all find you and cheer you up! 🙂 
Best,
Zuzka
P.S. If you'll ever start doubting yourself then watch this video of a 93 year old lady that does arm balances effortlessly. Doesn't that show that it's more than possible?