Lately I've wanted to try healthy some all natural skin care masks and scrubs to help exfoliate my skin and clean it really well!  Sure there are thousands and thousands of products out there that can do the very same thing, but I wanted to use raw, natural ingredients, where I know they have no chemicals or extra additives. Half the time, I find myself trying more expensive products, and they don't even work as well as they say they do!
This weekend, I tried an all natural, raw face scrub, using aloe vera from my plant, lemon from my lemon tree, and sea salt! Afterwards, my skin felt so amazing, refreshed, and bright! Read more on the benefits of these 3 things for your skin!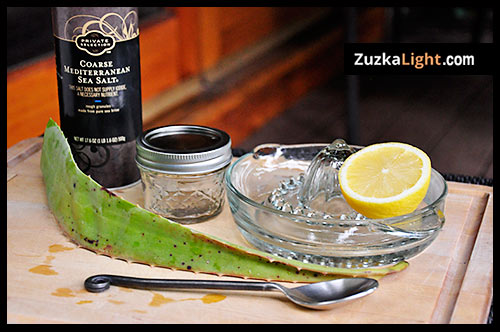 Aloe Vera:
Aloe Vera is a type of Cactus plant that grows in dry hot climates, it is filled with a clear gel that can help heal wounds and soothe skin.  Many of us have heard of Aloe Vera, we mostly use the gel cream when we get a really bad sunburn.  It relieves the pain of burnt skin and helps cool it down. Well, using raw aloe directly from the plant has even more benefits.   Not only does aloe vera treat sunburns, it moisturizes your skin without leaving it feeling greasy.  Aloe Vera even helps with acne! Aloe contains two hormones in the plant, providing healing and anti-inflammatory ingredients that reduce skin redness and inflammation.  When aloe is applied to your face, it softens the dead skin cells leaving your skin feeling soft and smooth!  Because of its powerful ingredients, Aloe Vera even lessens the visibility of stretch marks.  Stretch marks  are minor tears in the layers of skin, and aloe helps heal these tears. Even when applied under your eyes, Aloe Vera can reduce eye-puffiness almost immediately! Just soak cotton balls in the aloe vera gel and leave in the refrigerator overnight, then, in the morning, wipe under your eyes  for a cool refreshing feeling!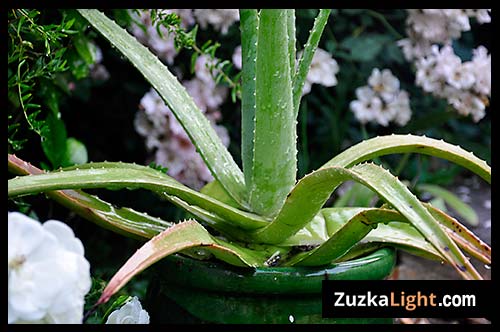 This is my beautiful Aloe plant. It requires minimum care and you don't have to worry about her (she's a girl) if you forget to water her.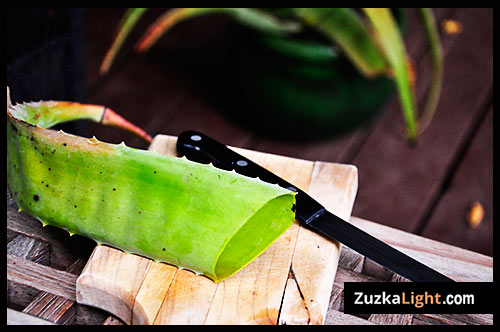 Cut off one of the older outside leafs at the base of the plant.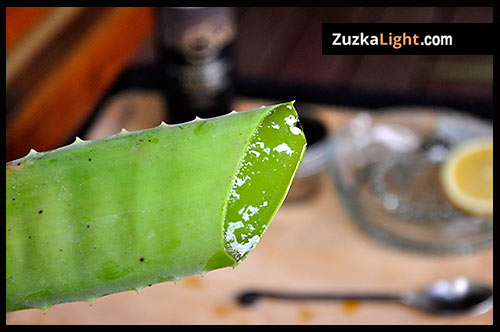 Cut off a piece about the length of your middle finger. You need to get the shiny gel that is inside by peeling off the outside skin.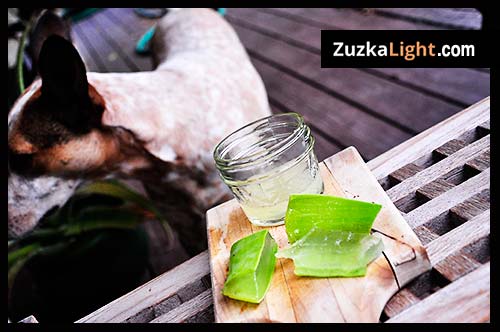 Be aware of dogs, because it apparently attracts them. Hello Dutch! Looking great.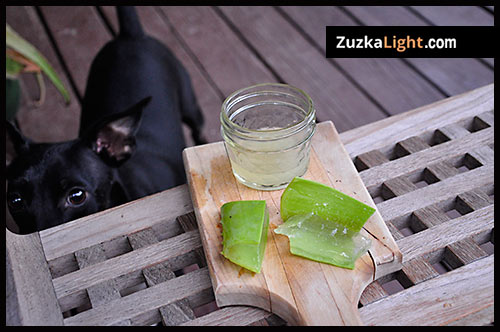 Oh hey Gypsy. There is nothing for you buddy, just Aloe.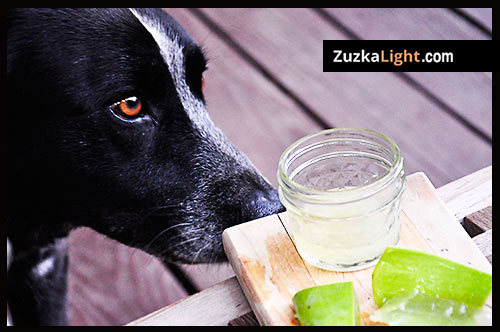 Ok that's enough you guys. Addie go play with Dutch! Dogs…
Let's look at the other two ingredients: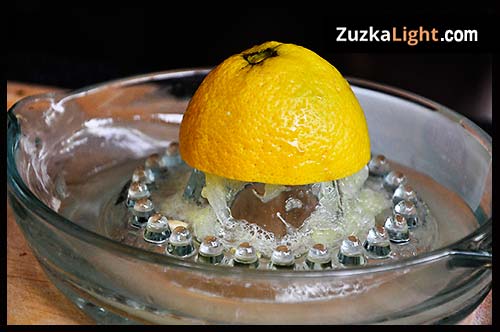 Lemon:
Lemons are rich with vitamins, antioxidants and acids that can even-out your skin tone and leave your face looking much brighter.  Lemons contain high amounts of "alpha-hydroxy acids", what is commonly called known as citric acid.  When it comes in contact with our skin, it bleaches areas of darker pigment while exfoliating away the top layers of your skin. The Vitamin-C in lemons acts like a powerful antioxidant and reverses the damages done to our skin from the sun or other harmful skin products.  
Salt:
I used sea salt in this mixture because I wanted to use a coarse, ground up ingredient that would work as a sort of "scrub". The salt helps exfoliate your skin, scrubbing away the dirt and dead skin cells.  Or you can use brown sugar too! Salt is very abrasive, so make sure to not use too much or you may irritate your skin.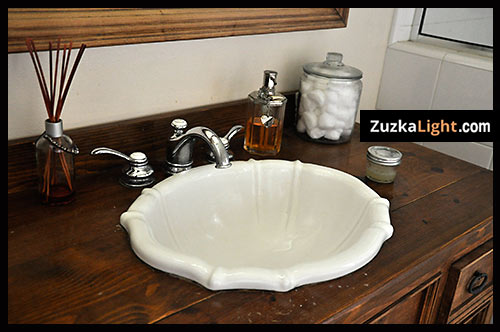 Welcome to my bathroom. You can see my all-natural skin care facial scrub sitting in a small jar right next to the sink. I love my bathroom. I lived in many houses and apartments and this bathroom is so far my favorite. I tried to document the entire procedure, but it is not as easy to take pictures of myself while having a sticky scrub on my face, so here is where my photography ends.
How to make this skin care mask/scrub?
Skin Mask/Scrub Recipe
 3-4 Tablespoons of fresh Aloe gel
Juice from 1/2 a Lemon, freshly squeezed
2 Tablespoons of coarse Sea Salt
Add the lemon juice and aloe gel into a blender and blend it until you get rid of the clumps from Aloe gel. Pour the smooth mixture into a small glass jar and add the Sea Salt at the very end just before you are ready to apply the scrub. You don't want the salt to dissolve, you need the coarse pieces that make up the scrub. When mixed, apply to your face, and scrub your forehead, nose, cheeks, and chin. I let the scrub get dry and then rinsed it with warm water and pat dry my face. My skin felt really smooth and refreshed after using this mask/scrub. I liked it so much that I made one more jar of just lemon juice, aloe, and a little drop of olive oil and it worked great as a moisturizer on my face. My skin felt hydrated by the oil, yet not oily, because I used such a small amount.
Have fun preparing your own scrub and leave me a comment below if you tried it!
Best,
Zuzka.