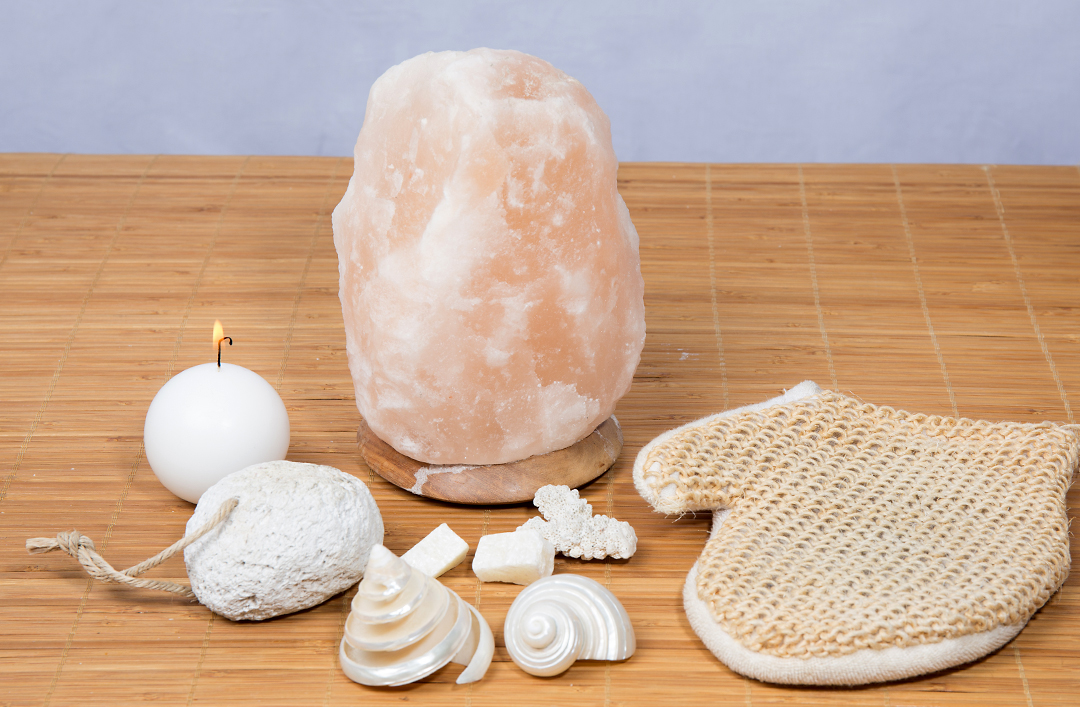 You've probably seen a himalayan salt lamp. Maybe you've even seen a salt lamp and not known what it is. That's certainly what happened to me the first time I saw one; just a weird but oddly soothing lump of pinkish-orange rock lit from inside by a small electric light bulb. This particular salt lamp was plugged in next to an electronic cash register at a health food store. "It's supposed to suck up all the bad stuff the machine puts out," the girl said matter of factly, flicking her long purple hair out of her face.
And that is one of the benefit claims of salt lamp enthusiasts. The makers and proponents of salt lamps claim that the lamps help to clean and purify the air around us, helping us sleep better, reduce and relieve allergy and asthma symptoms, and improve mood. The lamps are also supposed to give off negative ions, which are supposed to cancel out positive ions put out by electronic equipment and electromagnetic radiation from our computers, cell phones, etc.
How on earth could a lump of salt with a light bulb inside do these things?
The air purifying claim is interesting. Salt is hygroscopic, which means it attracts water. It's why a doctor tells you the flush your sinuses with a saline rinse when you're really congested. The mucus will cling to the salt particles and be washed away. The salt lamps are supposed to function in a similar way. The idea is that all the dust, dirt, allergens, pollution particles, etc. that are floating in the air have water molecules in them. The chunk of salt, which is heated from the light bulb within and activated, attracts these particles. As it absorbs them, the dirt and other yucky junk becomes trapped in the salt and the lamp can release the purified water back into the air. This sounds pretty plausible to me if not super effective.
The second big claim, that the lamps give off negative ions, seems a little more difficult to swallow. But first of all, what are negative and positive ions?
It's kind of a complicated thing to explain and it gets into some old school chemistry lessons, but basically a positive ion is an atom that bears an electric charge. In regard to what we're talking about today, a positively charged ion is carrying around something extra, extra in a bad way like bacteria or radiation. Some people think that things like electromagnetic waves (explained below) can positively charge an ion and then your body can absorb it. When a negative ion meets a positive ion, it will cancel out the positive ion and whatever extra thing it was carrying around with it. And that's the idea behind negative ion air purifiers. They're just little machines that produce negative ions to destroy the dirty positive ions and clean the air. And negative ion purification has actually been proven by scientific studies. It's definitely a real thing.
So how does it all fit together? Well, wireless devices and their towers and routers give off electromagnetic waves. As this form of communication has become more widespread, many people claim to have a sensitivity to these electromagnetic waves or radiation. Reported symptoms range widely and have included, but aren't limited to, headaches, nausea, nosebleeds, and sleep problems. Electromagnetic radiation sickness is difficult to prove or disprove, which has created controversy around the subject.
People who think these waves are harmful believe they are absorbing the positively charged ions that are emitted from their electronic devices and sources of wi-fi. And the idea is that salt lamps are giving off negative ions, which can eliminate the positive ions. So some people believe that salt lamps can purify the air of electromagnetic radiation.
Unfortunately, there is no scientific evidence that salt lamps give off any useful negative ions at all. But it's also true that salt lamps haven't been studied very much.
So, whether or not you believe in the benefits of a himalayan salt lamp, it can't be denied that they are beautiful. And they definitely won't hurt anything. I personally have one and find it wonderfully soothing, just like that one I saw in the health food store.
What do you think about himalayan salt lamps? Do you think all the claims are bogus? Do you have a salt lamp? I'd particularly love to hear from people who feel like having one has helped them. As always, let me know your thoughts in the comments!
Sources: Columbia Psychiatry, Critical Cactus, Healthline, Today.com, Science and Education Publishing, New England Journal of Medicine, Negative Ionizers, Newsweek, Quantum Balancing, Amazon, Ionic Balance