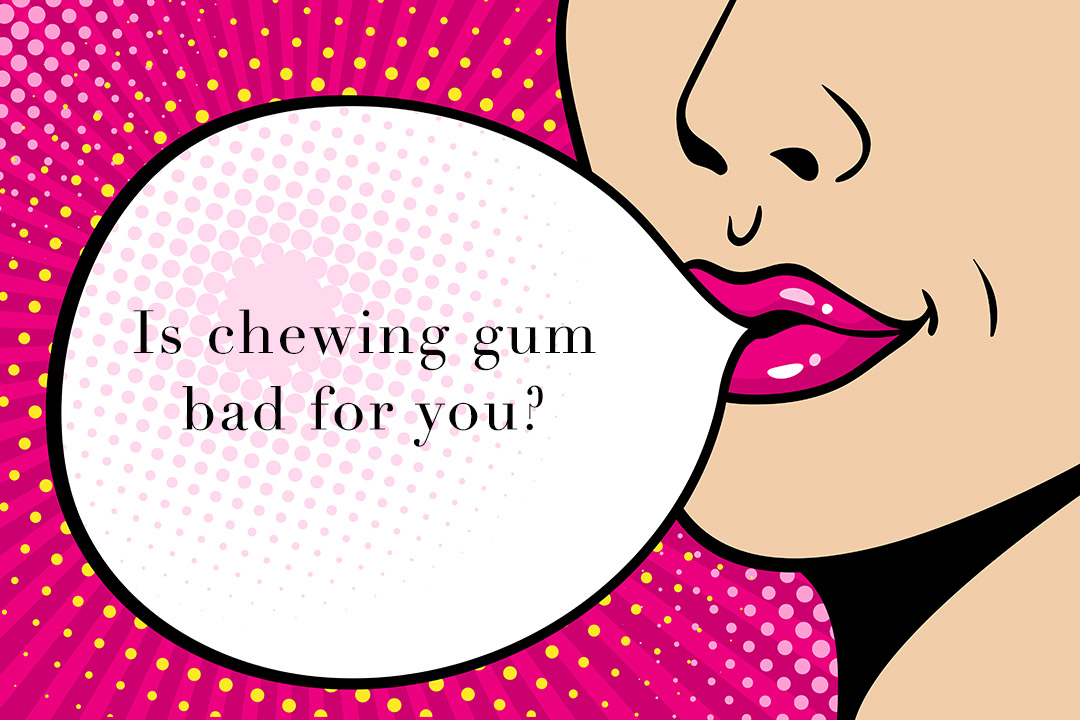 It's an age-old question. Is chewing gum really bad for you?
People have been chewing gum since the time of the ancient Greeks, when they first peeled bark from trees and used it as a breath sweetener. Today, many people who chew gum, look at it as a snack. Mostly, they like the flavor or the distraction it provides. Some even use it for stress relief or even a tool for reducing food cravings in between meals. And while the occasional piece may not be too harmful to your body, if you're a regular gum chewer, there is a lot of evidence out there that proves that this is one habit that you (and your body) are better off without.
Here are a few Side Effects of Chewing Gum:
You'll start to find yourself eating less fruit and more junk food. It is often recommended to chew gum in between meals to reduce hunger, and eat less. A study published in the Journal Eating Behaviors overthrew this belief. The study showed that chewing gum not only had no effect on the number of calories that were consumed, but chewing mint-flavored gum reduced the intake of healthy foods such as fruit, and increased the likelihood of someone eating more junk food like potato chips and candy. Researchers believe the minty flavor of the gum gave fruits and vegetables a bitter flavor.
Chewing gum can lead to temporomandibular joint disorder, also known as TMJ. This can lead towards extreme jaw and muscle pain while chewing. People who contract TMJ due to chewing gum too often can end up with contracted muscles of the jaw, neck, and head which can lead to headaches, earaches, and even toothaches over a period of time.
Irritable bowel syndrome, or IBS is a GI disorder which causes abdominal pain, cramping, and changes in your typical bowel habits.  Chewing causes excess air to be swallowed, which can cause discomfort or bloating to your large intestine. In addition to swallowing too much air, gum contains artificial sweeteners such as sorbitol and mannitol which can cause diarrhea.
It can ruin your teeth. According to Dr. Atkins, "Sugar-sweetened gum bathes the teeth in sugar and is a source of tooth decay,". Even if you chew sugar-free gum that contains cavity-fighting xylitol, you are still risking the well-being of your teeth because sugar-free gum often contains acidic flavorings and preservatives that may lead to dental erosion.
Gum contains many harmful chemicals. You may not pay attention to the ingredients in chewing gum since it is not supposed to be swallowed. But the ingredients, many of which are potentially dangerous, can enter your body directly through the walls of your mouth. One of the most common artificial sweeteners used in chewing gum is aspartame, which has been linked to birth defects, cancers, brain tumors, and weight gain. Another, sucralose, also known as Splenda, has been associated with decreased red blood cells, male infertility, enlarged kidneys, spontaneous abortions, and even an increased death rate.
Better Alternatives to Gum
Bad breath is generally the main excuse to reach for that stick of gum, but why risk all of those side effects? Instead, consider some more natural alternatives to make a normal part of your hygiene routine and help improve your breath:
Eat parsley or mint leaves. Make sure to rinse them off first!
Drink plenty of water!
Look into the amazing benefits and uses of peppermint oil.
Avoid foods with added sugars and high amounts of grains.