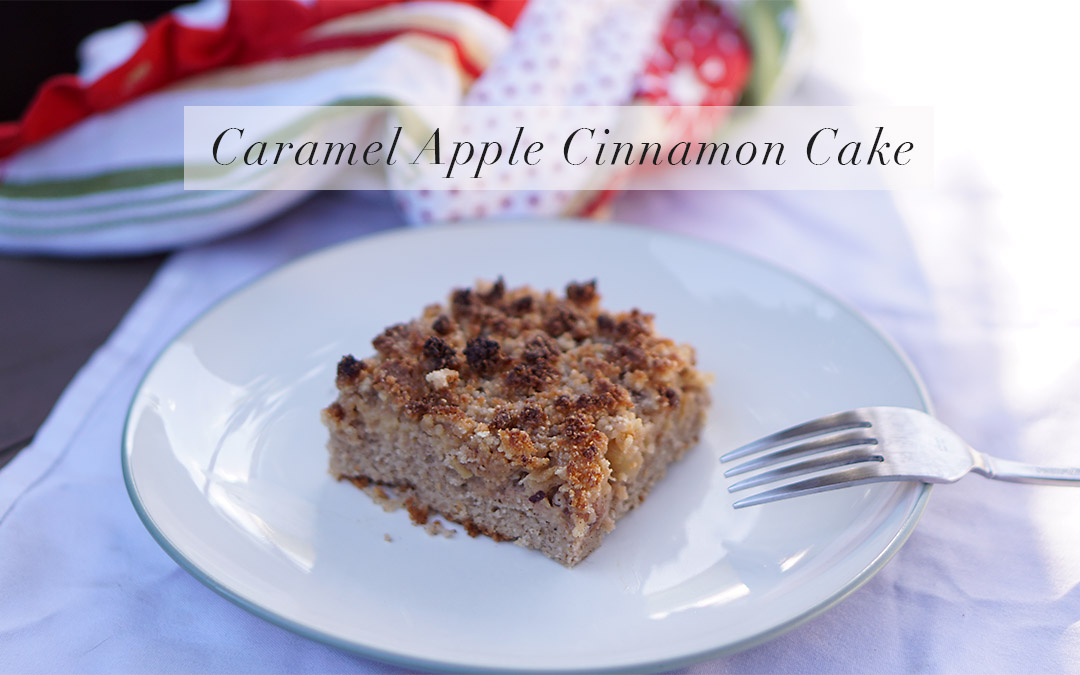 *yields 9 portions
Ingredients For the cake base
6 Tbsp butter
⅓ cup Swerve sweetener
2 eggs
1 Tbsp vanilla extract
1 cup almond flour
¼ cup coconut flour
pinch of salt
2 tsp baking powder
¼ tsp xanthan gum
½ cup almond milk
1/2 tsp cardamom
Caramel Apple Pecan Topping
3/4

 

cup

 heavy cream

1/2

 

cup

 

Erythritol sweetener (I use Swerve)

1

 

tbsp

 

Coconut oil

1/4 tsp xanthan gum

3/4

 

tsp

 

Sea salt

 

(adjust to taste)

1/2

 

tsp

 

Vanilla extract

1/4

 

tsp

 

Maple extract

1/2

 

cup

 

Pecans

 

(chopped coarsely, divided)

1 1/4  tsp cinnamon
1 1/2 cup shredded apples (3 small apples, I used fuji)
For the crumble topping
3 Tbsp butter
1 1/4 cup almond flour
1/4 cup Swerve Sweetener
1/4 tsp cinnamon
Instructions:
Preheat oven to 375F.
Start with the cake base. Take the butter out of the fridge and put it into the microwave for only 20 sec so it softens. It should not melt completely.
Cream the butter with the sweetener and then add one egg at a time and beat them well after each. Add the vanilla extract and mix in well.
Add all the dry ingredients into a medium size bowl and mix well.
Add all the butter mixture with eggs to the bowl with the dry ingredients and mix very well. Then add the almond milk and mix until the dough is completely smooth.
Pour the dough into a greased 9×9 inch square baking pan and set aside.
Make the caramel apple pecan topping: mix the heavy cream with the maple and vanilla extract in a small sauce pan. Then turn on the heat to medium/low and add the xanthan gum, coconut oil, cinnamon, Swerve, and  salt. Simmer for 3-5 minutes until it thickens and turns slightly caramel in color. Let it cool down and it the mean time, make the crumble topping.
In a small sauce pan melt the butter over low heat and add the dry ingredients. Take the sauce pan out of the heat and mix well until you get the crumble texture.
Mix the shredded apples and pecan pieces with the caramel sauce and stir well. Spoon the mixture over the top of the dough in the baking pan to create an even layer. Then sprinkle the crumble topping all over evenly and place the pan into the preheated oven (into the middle). Bake for 30-35 minutes until the top is golden brown. Let it cool down completely for about an hour in the fridge before cutting into it.
Add to my favorite recipes
You can access your own personal list of favorite recipes in the My Account section. Click the My Account button at the top of this page.
You must have an active ZGYM subscription to access the favorites feature.