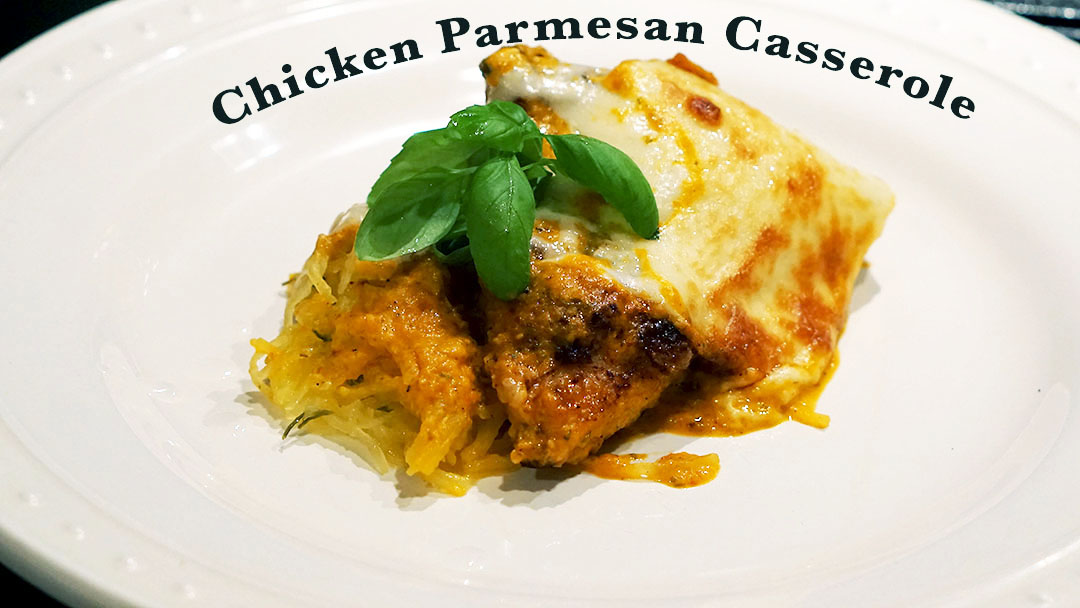 *yields 4-6 portions
For the chicken:
1 lbs boneless skinless chicken breast
1 egg
½ cup almond flour
¼ cup grated parmesan cheese
½ tsp salt
⅛ tsp ground black pepper
½ tsp garlic powder
1 tsp dried parsley
½ tsp dried basil
3 Tbsp oil for frying (neutral flavor)
For the casserole
4 cups cooked spaghetti squash
1 Tbsp olive oil
½ tsp kosher salt
⅛ tsp ground black pepper
½ Tbsp dried parsley
6 ounces fresh mozzarella
1.5 cup easy low carb marinara sauce (recipe below)
Fresh basil, chopped (for garnish)
Low Carb Marinara Sauce:
5 fresh medium size tomatoes
¼ tsp black pepper
½ tsp red pepper flakes
1 tsp onion powder (or fresh onion)
1 small clove garlic
1 tsp fresh basil
1 tsp dried oregano (fresh is better)
1 tsp dried parsley (fresh is better)
1 tsp salt (add more if necessary)
2 Tbsp red wine vinegar
¼ cup extra virgin olive oil
1/2 tsp xanthan gum
Instructions for Marinara Sauce:
Boil about 8 cups of water in a medium size pot (just enough so the tomatoes are completely emerged) then add the tomatoes and cook for about a minute or two until you see cracks in the skin and it's easy to peel it off.
Set the skinless tomatoes aside on a plate and let them cool down for a few minutes. Then add into a blender with all the other ingredients and blend until completely combined and smooth.
You can keep the sauce in a Tupperware refrigerated for about 3 days.
Instructions
Cut the chicken breasts into thinner slices horizontally.
In a small bowl beat the egg and add 1/4 tsp salt. In another bowl mix the almond flour, parmesan cheese, garlic powder, dried parsley, dried basil, black pepper and 1/4 tsp salt.
Dip the chicken breasts in the egg until completely coated and then in the almond mixture and set aside on a plate.
Heat up the oil in a large pan over high heat and then fry the chicken until golden brown on both sides. Transfer the fried chicken breasts onto a clean plate.
Preheat oven to 375F degrees. Combine the cooked spaghetti squash with olive oil, salt, pepper,  parsley and toss well. Then spread the mixture at the bottom of a 8×12 (or an equivalent) oven safe dish.
Spread the cooked chicken over the top of the spaghetti squash mixture and  the marinara sauce over the chicken and squash.
Cut pieces of mozzarella and spread them evenly over the top of the chicken. Place the dish into the preheated oven and bake for 30 minutes until the cheese is melted and the casserole is heated through. The chicken breasts are going to be delicious and moist on the inside. Garnish with fresh basil and serve hot.
Add to my favorite recipes
You can access your own personal list of favorite recipes in the My Account section. Click the My Account button at the top of this page.
You must have an active ZGYM subscription to access the favorites feature.