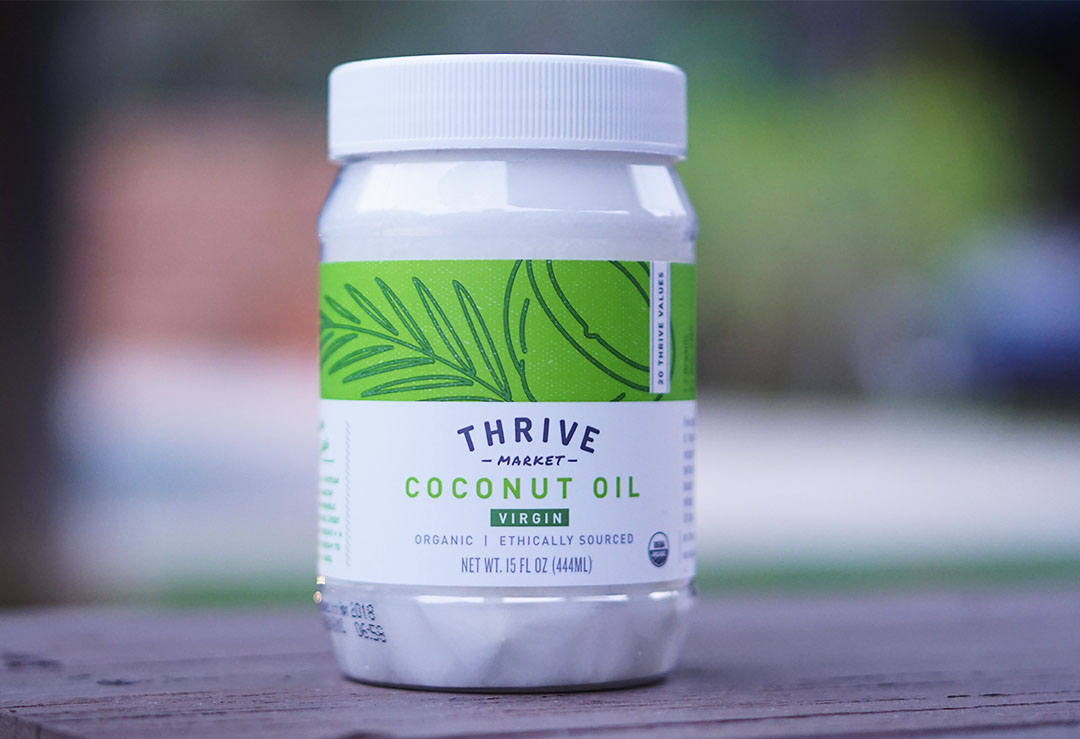 "One of the highest quality coconut oil for the most affordable price is the organic and ethically sourced coconut oil from Thrive Market. Get all my organic and healthy favorites at up to 50% off PLUS get a  FREE jar of Thrive Market's Organic Coconut Oil today by clicking here  – just pay $1.95 shipping!"
"Did you know that multiple studies on Pacific Island populations who get 30-60 percent of their total caloric intake from fully saturated coconut oil have all shown nearly non-existent rates of cardiovascular disease?" –Dr. Joseph Mercola
You may already be in the know, but there is a super oil out there that has been getting a lot of attention for the past few years. Coconut oil is known to be classified as a "superfood" and is quickly becoming a must-have household item. Whether you are looking to add a little flavor to your food, lose weight, improve your brain function or even reduce the risks of heart disease, the benefits are endless.
What is Coconut Oil?
Coconut oil is made from the inside of the coconut, and can be made in two different ways; the dry or the wet process. The most common way that the oil is extracted it through the dry process, which takes about 12 months as the coconut matures from a flower. During this procedure, the coconut meat is removed from the shell and is dried during a process known as copra, where the use of extreme heat is used to dry out the coconut meat. The wet process takes much longer time. Water and oils are used to create the coconut oil, with the help of rigorous boiling and the constant separation of the oil from the boiling water. This is also a much more expensive task and involves several pre-treatments before the oil is ready.
This superfood is high in beneficial fats called medium chain triglycerides, which is also known as MCT. MCT's can quickly enter your bloodstream and provides energy for your brain. Coconut oil even has a higher smoke point, which makes it ideal for sautéing veggies.
Coconut Oil Contains Fatty Acids with Many Powerful Medicinal Properties
Coconut oil doesn't contain your average saturated fats, therefore making it one of the richest sources of saturated fat known to man. The fatty acids found in coconut oil are metabolized differently and are able to go straight to the liver from the digestive tract. Once there, they are used as a quick source of energy, known as ketones. These ketones have therapeutic effects on the brain and are known for treating different disorders like epilepsy and Alzheimer's.
The MCT's in coconut oil have also been shown to increase the number of calories you burn in a day. This can potentially lead to significant weight loss over a long period of time if used consistently.
The fatty acids and breakdown products in coconut oil can kill harmful pathogens, potentially helping to prevent infections. Almost 50% of the fatty acids found in coconut oil is known as the 2-carbon lauric acid which when digested, forms a substance called monolaurin. Both the lauric acid and monolaurin can kill harmful pathogens like bacteria, viruses, and even fungi.
The fatty acids in coconut oil can help reduce your appetite, which may positively affect body weight over the long term.
The fatty acids found in coconut oils, when turned into ketones can help reduce seizures. The MCT's are often used in epileptic patients to induce ketosis while allowing for a bit more carbs in the diet.
The saturated fats found in coconut oils increase your HDL levels. HDL are the good cholesterol levels and when these levels are high, you risk of heart disease goes down, and the better your health is. By increasing the HDL levels, it in turn decreases the LDL levels, which are the bad levels. This also regulates blood clotting factors, and contains antioxidants that are in high demand in our bodies and help regulate your cholesterol.
How to Use Coconut Oil:
Coconut oil can be easily incorporated into your diet. When cooking, swap out the oil you already use for coconut oil, and when baking; melt the coconut oil before adding it to the rest of your ingredients, making it easier to mix into the rest of the batter.
Use it as a lotion. Coconut oil is full of vitamin E, which is about the most moisturizing vitamin you can apply to your skin.
Looking for stronger, glossy hair? Heat up a few tablespoons of coconut oil and apply it to your dry hair before bed. Cover with a shower cap and shampoo the oil out in the morning. Expect to see less frizz and an increase in shine thanks to the added moisture.
Coconut oil can even be used to treat your teeth. A 2012 study  showed that coconut oil can help stop most of the common causes of tooth decay. You can make your very own tooth paste and teeth whitener by mixing six tablespoons of coconut oil with the same amount of baking soda, along with about 20 drops of the essential oil of your choice.
Final Word:
Coconut Oil has so many different health and wellness benefits, that it can and most likely will become your new favorite oil. From adding it your meals and diet, to using it for its outer beauty perks.
"One of the highest quality coconut oil for the most affordable price is the organic and ethically sourced coconut oil from Thrive Market. Get all my organic and healthy favorites at up to 50% off PLUS get a  FREE jar of Thrive Market's Organic Coconut Oil today by clicking here  – just pay $1.95 shipping!"