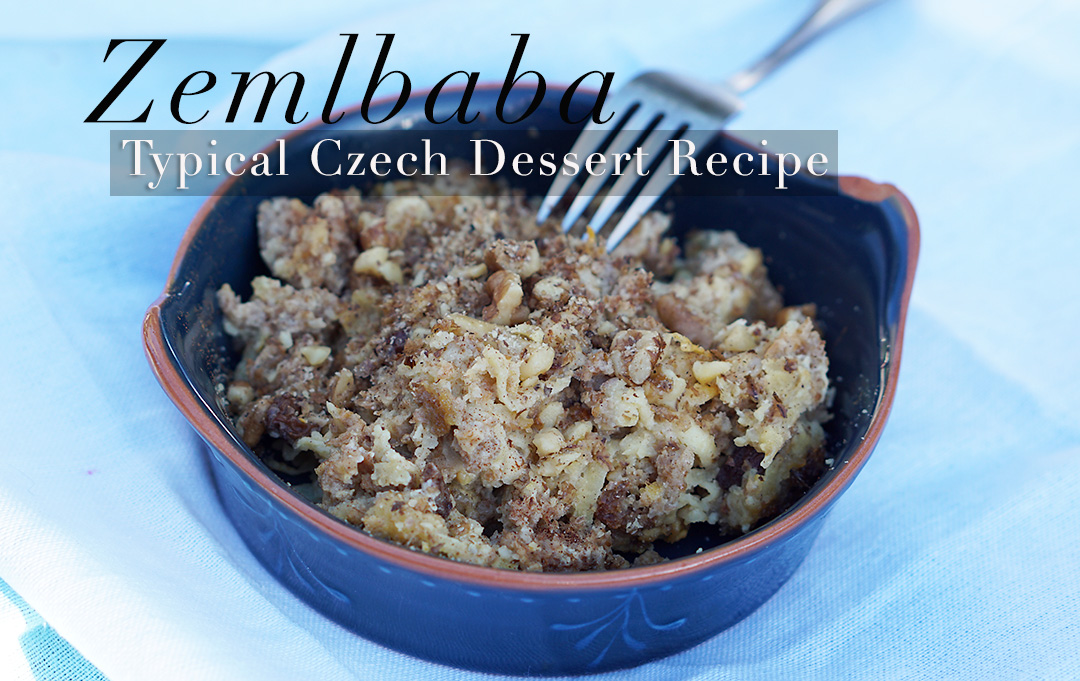 This is a healthy spin on one of my favorite childhood desserts that grandma used to make. Zemblbaba is typical Czech baked dessert made with apples, white bread, milk, butter, sugar and cinnamon. It's a total comfort food and also the easiest thing to make. This is how my grandma would make the use of a stale bread – she would revive it by soaking it in milk and then make a dessert. She would never waste food. Food was scarce back then. It's not like today, especially here in the US where food is everywhere. The only difference is that the prices for fresh produce went way up and the cheap, junk food is what most people can afford. If I can give you advice on how to save a little bit of money – keep your healthy sprouted whole grain Ezekiel bread sliced in the freezer. You can have a fresh toast any time you want. If you don't do that, then you'll either end up throwing out the stale remaining of the bread, or force yourself to eat it before it goes stale even if you're not hungry. I'm talking from a personal experience.
I have substituted the milk for coconut milk, used grass-fed butter and ditched the sugar all together. Remember that you can buy Swerve Sweetener (and other non-perishable food)  for cheaper at Thrive.
If you're really carb sensitive, then you can earn this meal with a workout (just make sure you do a high intensity workout on the same day). The Ezekiel bread is way better than any regular bread you find in the store. Sprouted whole grains are healthy for us and have a positive effect on our insulin and blood sugar levels. That's why this recipe can also be considered a free meal.
*Yields about 6 portions. 
Ingredients
2 eggs
5 pcs ezekiel toast with raisins (if you have regular Ezekiel bread, add 2-3 tbsp raisins to this recipe)
2 large sweet apples (I used Envy) peeled, and cored
1 cup coconut milk
1/4 tsp cinnamon
1/2 tsp lemon zest, finely grated
3 tbsp Swerve Sweetener (powdered)
1 tbsp Swerve Sweetener (granulated)
2 tbsp grass-fed butter
Instructions
Preheat oven to 350F degrees
Shred the apples coarsely and mix them in a bowl with 1/4 tsp cinnamon and 1 tbsp granulated Swerve. Set aside.
If you're keeping your sliced Ezekiel bread in the freezer like me, you want to toast 5 pieces but only lightly. The toast shouldn't be dark, only crunchy and soft. Tear up the bread into small pieces and place them into a round 8 inch (or a similar size equivalent) baking dish.
Open a can of coconut milk, mix well until smooth and then pour 1 cup of the milk over the pieces of bread. Let the bread soak in the coconut milk.
Crack the eggs and separate the yolks from the whites.
In a small dish, mix 1 tbsp of cold butter with the powdered Swerve until smooth. Use a fork. Then add the yolks and mix again until smooth. Add the grated lemon zest and mix well.
Add the smooth yolk mixture into the dish with soaked bread and mix well. Add the apples to the baking dish as well and mix again.
Beat the egg whites until you create a really thick foam. Add the foam to the dough in the baking dish and mix well for the last time.
Slice the remaining tablespoon of butter very thinly and place the slices on top of the dough in the baking dish.
Place the dish into the preheated oven and bake for about 45  minutes until golden brown on top.
Garnish each portion with little bit of ground cinnamon and crushed walnuts. Serve warm.
Add to my favorite recipes
You can access your own personal list of favorite recipes in the My Account section. Click the My Account button at the top of this page.
You must have an active ZGYM subscription to access the favorites feature.