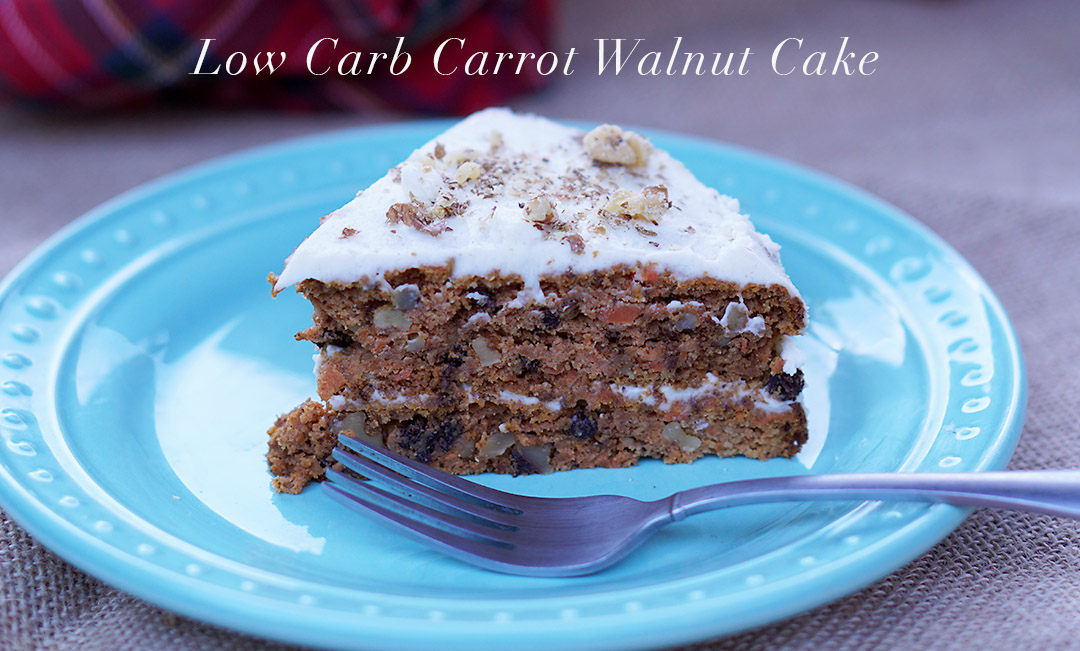 *You can have this cake for breakfast or as a dessert. Portion sizes are individual. Listen to your hunger – not cravings. 
Ingredients
3 cups almond flour
5 large eggs
1/4 cup Algae oil (or coconut oil)
1/2 tsp sea salt
1 tbsp cinnamon
1/2 tsp cardamom
1 tsp baking soda
3/4 cup Swerve sweetener (erythritol)
1 tbsp honey
3 cups grated carrots
1 cup walnuts coarsely chopped
1 cup raisins
Cream cheese frosting
8 oz cream cheese (Philadelphia)
6 tbsp butter
1/3 cup + 2 tbsp powedered Swerve sweetener
1/4 tsp lemon extract
1/2 tsp vanilla extract
Instructions
Preheat oven to 325F degrees.
Prepare two 9-inch cake pans and  grease them with one tsp of Algae (or coconut oil) and dust with almond flour.
Combine the almond flour, salt, baking soda, cinnamon, and cardamom in a large bowl.
In a different bowl whisk the eggs with Swerve and oil.
Stir the wet ingredients into the almond flour mixture until well combined.
Fold in the carrots, raisins and walnuts. Then split the batter in half.
Transfer the batter into each pan and smooth out the top with rubber spatula.
Bake in the preheated oven for about 55 minutes – or until a pick inserted into the center of the cake comes out clean. Let the cake cool down for an hour, before dress it up with the frosting.
Prepare the frosting. Add all the ingredients into a high speed blender and mix until smooth. Transfer the mixture into a small sauce pan and allow it to melt over low heat. Don't let it get to a boil. You want the frosting to be super easy to spread so you don't ruin the cake.
Cover the entire top of one cake with the frosting, then place the other cake on top. Spread the rest of the frosting around the whole cake. Sprinkle the top with crushed walnuts. Place the cake into the refrigerator until the frosting hardens. Serve.
Add to my favorite recipes
You can access your own personal list of favorite recipes in the My Account section. Click the My Account button at the top of this page.
You must have an active ZGYM subscription to access the favorites feature.