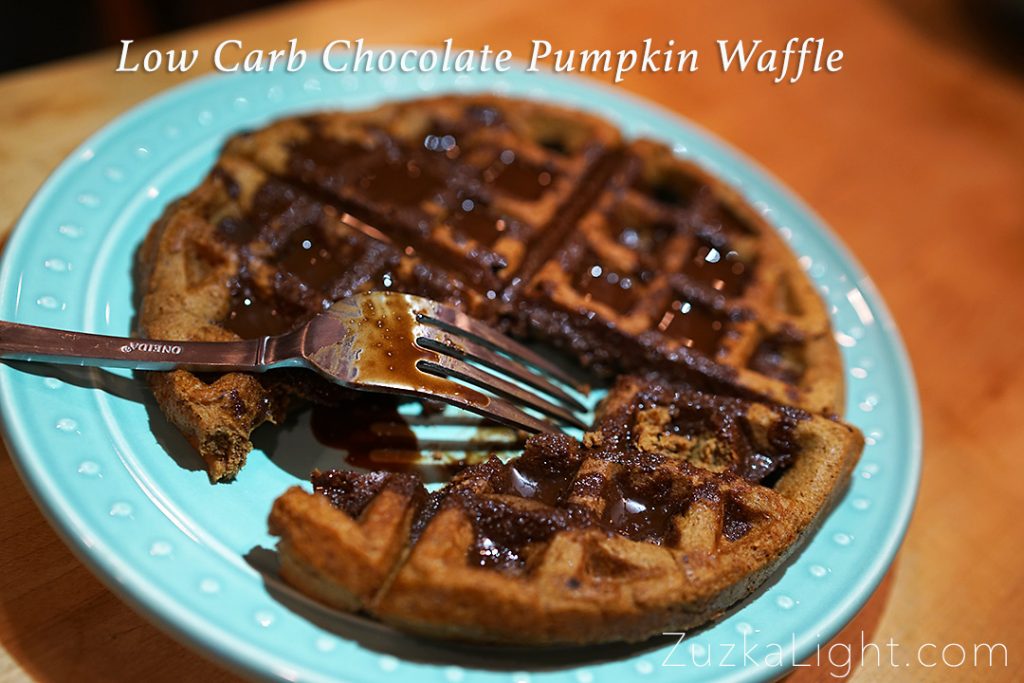 * This waffle is low in carbs and it's only about 300 calories (not counting the chocolate sauce). My portion size would be one or two quarters with the chocolate sauce on top.
Ingredients:
1/4 cup almond flour
2 tbsp pumpkin pure
3 tbsp granulated Swerve
dash of pumpkin pie spice
dash of cardamom
1 egg
2 tbsp almond milk
1 tbsp unsweetened cocoa powder
1/2 tsp baking powder
1/2 scoop (15g) low carb chocolate whey protein powder (I use Jay Robb)
___________
Ingredients for Chocolate topping:
1 tbsp coconut oil
1 tbsp coconut manna
1 tbsp unsweetened cocoa powder
1 tbsp sugar substitute (I use Swerve)
___________
Instructions:
Plug in your waffle maker and turn it on high.
In a medium size bowl mix all the dry ingredients for the waffle.
Add the egg, almond milk, and pumpkin pure into the dry mixture and mix well until smooth.
Pour the entire mixture into your waffle maker and wait until the light turns off. Make sure it runs the whole cycle. It should be about a minute or so. Transfer the waffle onto a plate.
Mix all the ingredients for the chocolate topping and pour the chocolate all over the waffle. Serve & enjoy.
Z-Tip: you can save it for later – keep it in the fridge, it's delicious even when it's cold.
Add to my favorite recipes
You can access your own personal list of favorite recipes in the My Account section. Click the My Account button at the top of this page.
You must have an active ZGYM subscription to access the favorites feature.