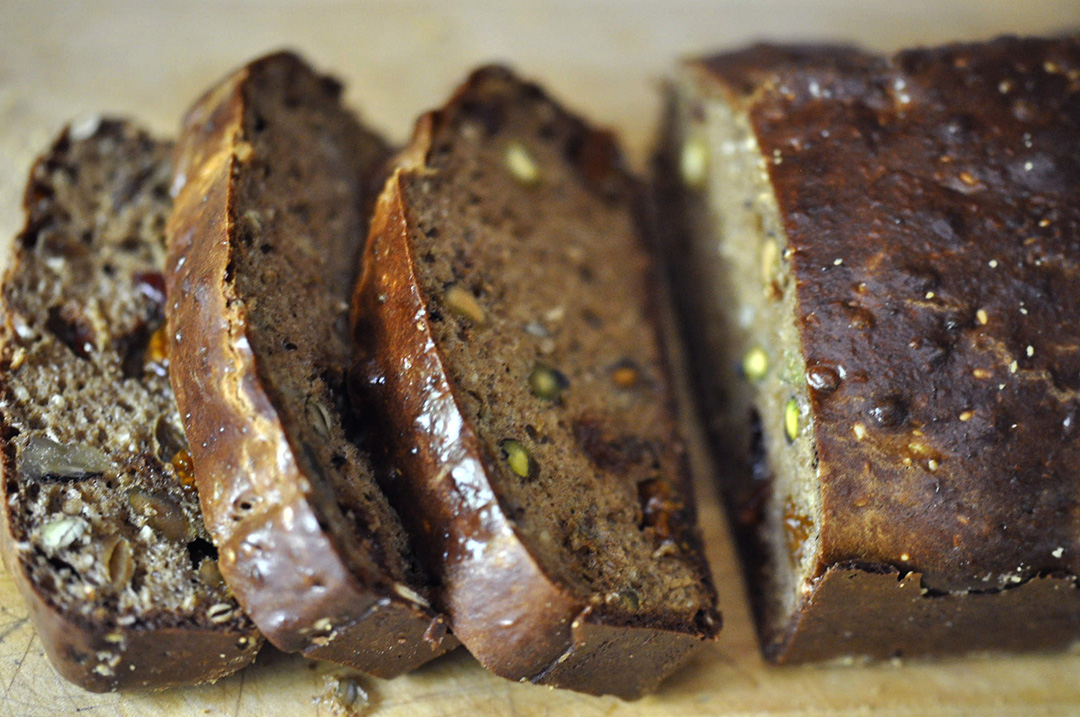 Ingredients:
Cooking oil for greasing the loaf pan
3/4 cup roasted almond butter, at room temperature
1 tbsp honey
4 large eggs
1/4 cup almond flour
1/4 tsp xanthan gum
1/2 tsp baking soda
1 tsp sea salt
1 tsp flaxseed meal
1/4 cup sesame seeds
1/4 cup pepitas
1/4 cup walnuts, chopped
1/4 cup roasted pistachios
1/4 cup dried cranberries
Instructions:
Preheat the oven to 350F degrees.
Grease a 7 by 3 inch (or similar size) loaf pan. No need to flour the pan.
Mix the almond butter, honey, and eggs in a large bowl until smooth.
Combine the almond flour, xanthan gum, baking soda, salt, and flaxseed meal in a medium bowl.
Blend the almond flour mixture into the egg mixture until thoroughly combined and then fold in the sesame seeds, pipits, walnuts, pistachios, and cranberries.
Pour the batter into the prepared pan and bake for 50 to 60 minutes, on the bottom rack of the oven, until a long tooth pick (or bamboo stick) inserted into the middle of the loaf comes out clean.
Let the bread cool in the pan for 1 hour before serving. It has to cool before it's removed, otherwise it can break apart.
Add to my favorite recipes
You can access your own personal list of favorite recipes in the My Account section. Click the My Account button at the top of this page.
You must have an active ZGYM subscription to access the favorites feature.