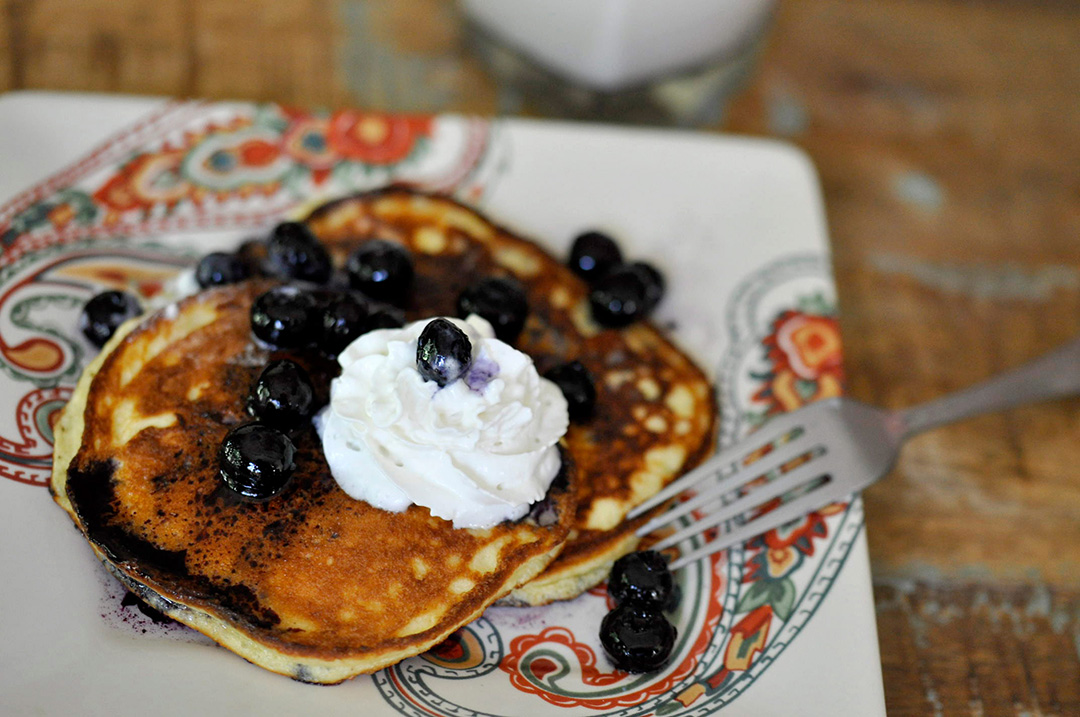 Ingredients:
2 ounces cream cheese
2 large eggs
2 tbsp erythritol (Swerve Sweetener)
1 scoop vanilla whey protein powder – about 28g (maximum 6g carbs)
2/3 cup almond flour
3 tbsp coconut oil
pinch of salt
Blueberry sauce:
1 tsp coconut oil
1/4 cup frozen blueberries, thawed
1 tbsp Swerve sweetener
2 tbsp whipped cream (you can make your own in a blender. Pour a 1/4 cup of heavy cream into a blender and blend on high until whipped, keep the leftovers in a closed jar in the fridge for up to 3 days)
Instructions:
Add the cream cheese, eggs, Swerve, protein powder, almond flour, and salt into a high speed blender and blend until smooth batter is created.
In a medium skillet, heat 1 tablespoon of the coconut oil over medium-high heat. Pour 1/4 cup batter in the middle of the hot skillet (the oil should sizzle when you add the batter). Move the skillet gently around until the batter spreads into about a 3-inch circle.
Cover and cook until brown, about 1 minute 30 seconds. Uncover and flip the pancake. Cover and cook until brown, 30 to 40 seconds. Repeat until you use all of the batter, adding the remaining coconut oil as needed.
When the pancakes are done, make the blueberry sauce: Add the blueberries and coconut oil to the hot skillet. Sprinkle Swerve over the top, and cook over medium-high heat, stirring frequently until the blueberries are warm. 3 to 4 minutes.
Pour the blueberry sauce over the pancakes and top with the whipped cream. Serve right away.
Add to my favorite recipes
You can access your own personal list of favorite recipes in the My Account section. Click the My Account button at the top of this page.
You must have an active ZGYM subscription to access the favorites feature.