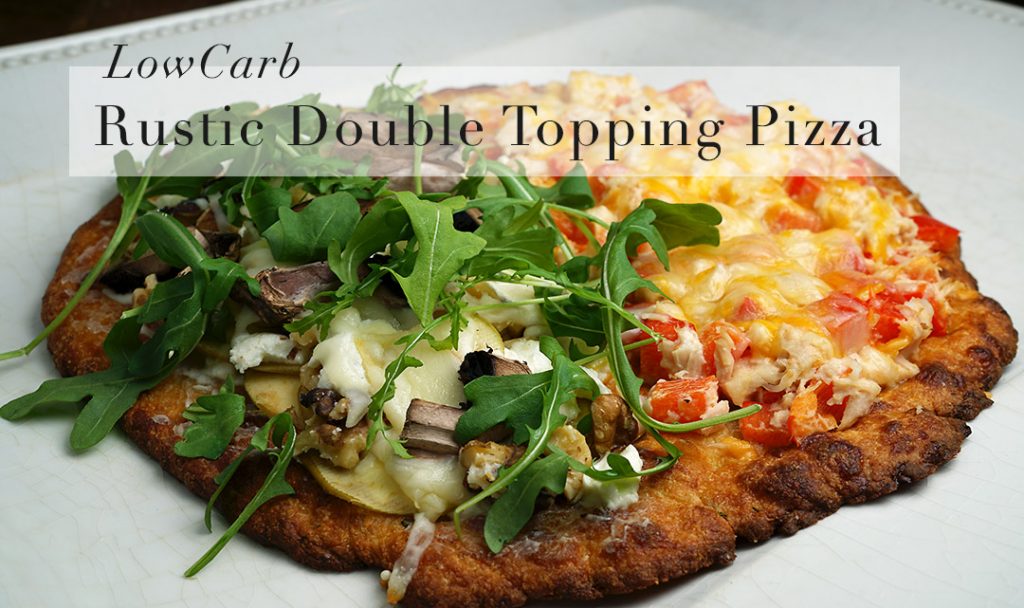 *Yields 4 large portions
Ingredients for pizza crust:
2 cups mozzarella cheese, grated
¾ cup almond flour
2 Tbsp. cream cheese (Philadelphia original)
½ tsp. sea salt
1/8 tsp. dried oregano
Ingredients for tuna melt topping:
1 large 12oz can albacore tuna in water, drained
1/2 large red bell pepper chopped
1/3 cup mozzarella, shredded
1/3 cup cheddar, shredded
1 tbsp mayo (or avocado mayo)
Ingredients for goat cheese, apple & arugula topping:
8 thin apple slices
1/3 cup goat cheese
1 tbsp honey
1/4 cup chopped brown mushrooms
1/4 cup mozzarella shredded
1/2 cup fresh arugula
Instructions:
Preheat oven to 425 F degrees.
Take all the ingredients for the pizza crust and add them into a metal or porcelain mixing bowl.
Take a large sauce pan and fill it partially with water and bring it to boil.
Turn the heat down to low and place the mixing bowl with the crust ingredients into the sauce pan. Stir the content of the mixing bowl constantly but carefully so you don't burn yourself with the steam escaping between the sauce pan and the bowl.
When the cheese is melted and the mixed ingredients begin to resemble a dough, you can transform the dough onto  a parchment paper (the size of a large baking tray) or reusable non-stick liner. Knead the dough for a few minutes, then take a non-stick roller (if you're still using a wooden roller, I suggest you replace it, unless you like being frustrated) and roll out a 1/4 inch thin round pizza crush.
Transfer the pizza with the liner or parchment paper on top of a large baking tray and stick it into the preheated oven for 6-8 minutes. It's going to bake fast so watch it carefully and take it out as soon as you see it turning golden brown. Turn the oven down to 350F.
Mix all the ingredients for the tuna melt topping in a bowl and then transfer onto the pizza crust. Cover only 1/2 of the crust.
Spread the goat cheese over the other half of the crust, drizzle with honey, then add the apple slices, then the mushrooms and top it up with shredded mozzarella.
Place the pizza back into the oven and bake it for 6-8 minutes until the cheese is completely melted.
Take the pizza out of the oven and garnish the half with the goat with arugula. Serve and enjoy!
Add to my favorite recipes
You can access your own personal list of favorite recipes in the My Account section. Click the My Account button at the top of this page.
You must have an active ZGYM subscription to access the favorites feature.