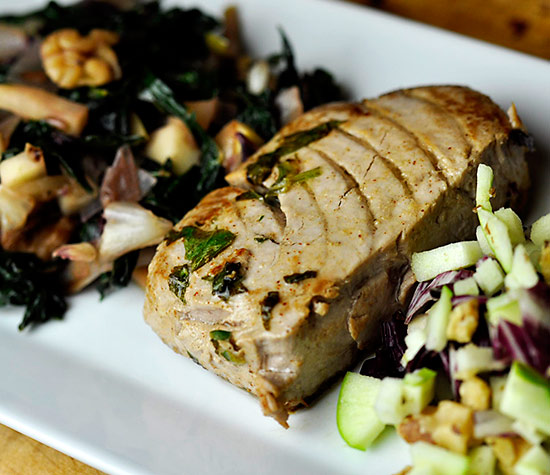 This is a great dinner for all of you who are following my Nutrition Guide and dividing your meals into FM and WEM. The easiest rule for dinner is to think protein and veggies. There are endless recipes that are just as fast and easy as this one. If you're just starting with a low carb diet, I would suggest to start with dinners. No carbs before you go to bed unless you have just completed one of my really intense workouts.
Ingredients
2 Albacore or Yellowfin Tuna Steaks (about 150g each)
1/3 cup fresh basil
1/4 tsp chili powder
2 tbsp extra virgin olive oil
2 tbsp freshly squeezed lemon juice
Salt & pepper
2 shallots (coarsely chopped)
1 bunch kale (discard the stems and chopped the leaves coarsely)
1 granny smith apple (small chopped)
1/2 Radicchio (small chopped)
1/4 cup walnut pieces
4 tbsp coconut oil (or grapeseed oil)
__________________________
Instructions
1. Mix the olive oil, basil, chili powder, 2 pinches of salt, and lemon juice in a bowl and then coat the tuna steaks and let it marinate in the fridge while you're going to prepare the kale apple salad.
2. Wash and prepare all the fresh ingredients.
3. Take a large sauce pan and heat a thin layer of coconut oil (or grapeseed oil) over medium/high. Add the chopped shallots, walnuts and radicchio. Sauté for about 2 minutes, then lower the heat to medium and cook for another 2-3 minutes.
4. Add the kale, apple and 2 tbsp water; season with salt and pepper, and cook stirring occasionally for additional 5 – 7 minutes or until the kale has wilted. Take the pan from the heat and set aside.
5. Take the tuna steaks out of the fridge and preheat a non-stick frying pan with a light coat of coconut oil (or grapeseed oil) on medium heat. Place tuna into the pan and cook and turn until lightly browned on all sides. The steaks should still be rare in the middle.
6. Drizzle some extra virgin olive oil into the pan with warm kale salad and toss. Add more salt and pepper if needed, and serve with steaks. Enjoy!
Add to my favorite recipes
You can access your own personal list of favorite recipes in the My Account section. Click the My Account button at the top of this page.
You must have an active ZGYM subscription to access the favorites feature.