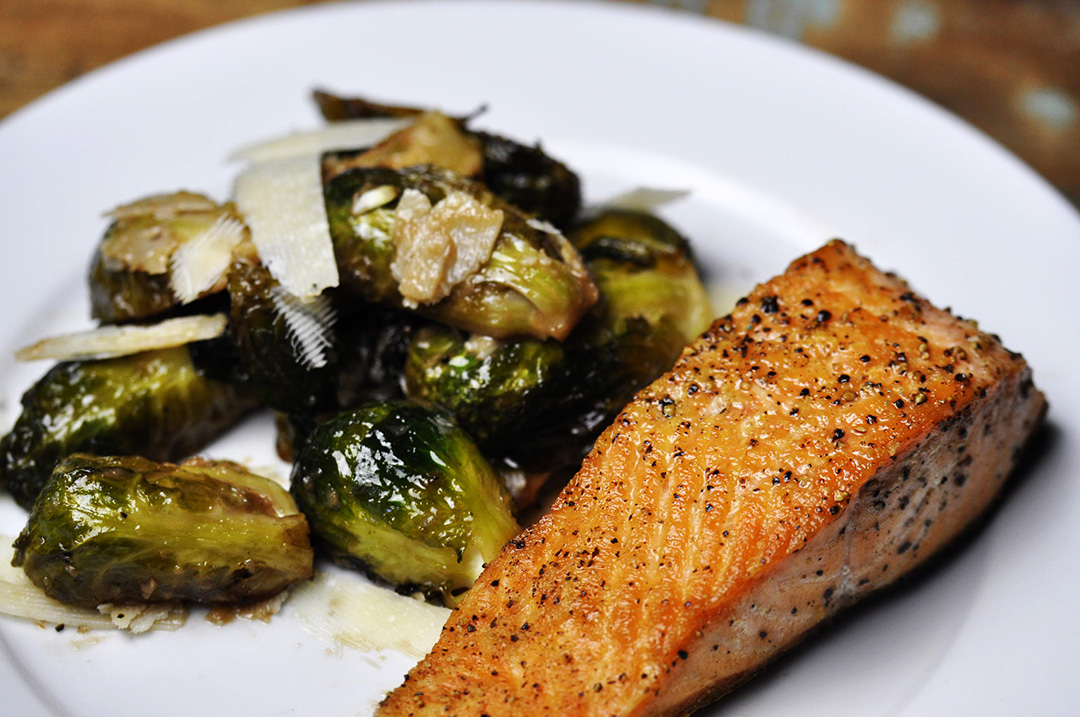 Ingredients for Dressing:
1 small shallot, chopped
2 tbsp Swerve Sweetener (granulated)
3 tbsp Sherry vinegar
2 tbsp Balsamic vinegar
3 tbsp Extra-Virgin olive oil
1/4 cup grapeseed oil (you can also use Algae or Avocado oil)
Salt & Pepper to taste
Ingredients:
2 cups trimmed Brussels sprouts
1/4 cup freshly ground parmesan cheese
2 salmon fillets (about 5 ounces each)
3 tbsp grape seed oil (you can also use Algae, Avocado or Coconut oil)
Salt & Pepper to taste
Instructions:
Make the dressing: add all the ingredients for dressing into a blender and mix until smooth.
Preheat oven to 350F degrees.
Bring a large pot of salted water to boil over high heat.
Cut the Brussels sprouts lengthwise in half and blanch in the boiling water until slightly softened, about 2 minutes.
Drain the Brussels sprouts in a colander and transfer to a large bowl. Add 1/4 cup of the dressing and toss to coat. The warm Brussels sprouts will absorb the dressing and soak up the flavors.
Spread out the Brussels sprouts in a single layer on a large baking sheet and season generously with salt and pepper. Roast for 25 minutes, shaking the pan occasionally, until they are evenly browned.
Remove the Brussels sprouts from the baking sheet and let them cool down in a large bowl while you prepare the fillets. Coat the cooled Brussels sprouts with additional dressing to taste – don't over do it – and toss with the parmesan cheese.
Coat a large skillet with the grapeseed oil and heat over medium-high heat until it sizzles when you flick water on it. Season the salmon generously with salt and pepper on both sides and place the fillets in the skillet skin side down. Cook for about 4 minutes on each side or until cooked through. Serve with Brussels sprouts.
Add to my favorite recipes
You can access your own personal list of favorite recipes in the My Account section. Click the My Account button at the top of this page.
You must have an active ZGYM subscription to access the favorites feature.