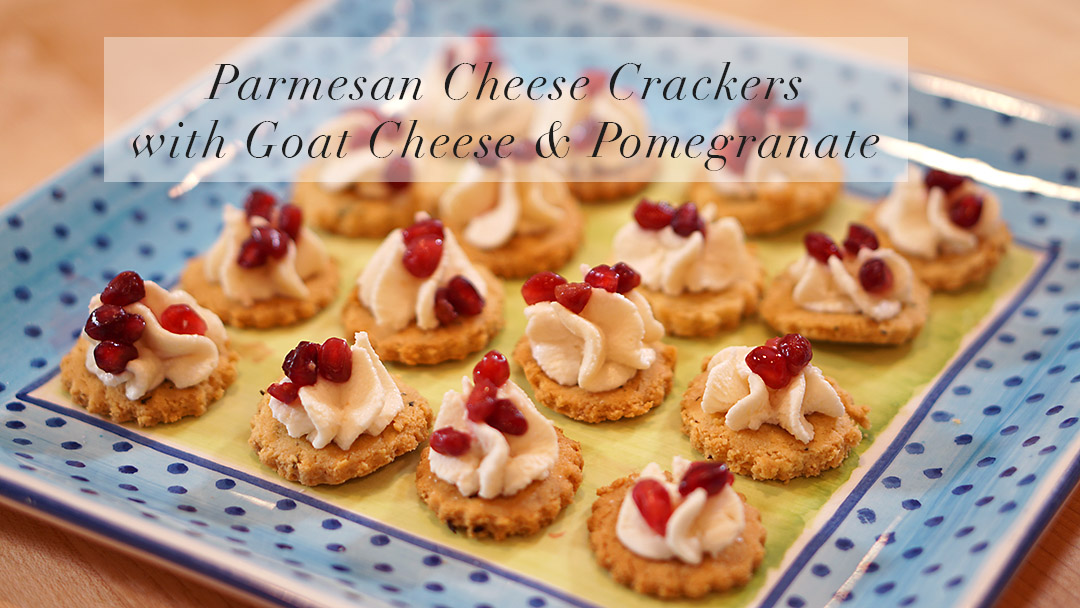 *using a cookie cutter 1 1/2 inch in diameter yields about 57 crackers 
Ingredients for the crackers:
2 cups almond flour
3 tbsp nutritional yeast seasoning
1 1/2 tsp sea salt
1/4 tsp baking soda
1/4 tsp garlic powder
1/4 tsp onion powder
3/4 cup freshly grated parmesan cheese
1 tbsp olive oil
2 large eggs
fine sea salt for the tops
optional seasoning:
1 tbsp dry oregano
1 tbsp dry rosemary
Topping:
3/4 cup + 2tbsp (7oz)  cream goat cheese
2 1/2 tbsp organic honey
1/2 cup pomegranate seeds
Instructions:
Preheat oven to 350F degrees
Combine all the dry ingredients for the crackers including the dry seasoning in a large bowl. Mix until there are no lumps.
In a small bowl mix the eggs with olive until smooth and then add it to the bowl with mixed dry ingredients.
Stir with a rubber spatula until you form a sticky dough. Transfer the dough onto a lightly greased (you can use olive oil or butter) parchment paper or any smooth surface such as bamboo cutting board.
Working in batches, roll out the dough until it's about 1/8 of an inch thin and then use a circle cookie cutter  (1 1/2 inch in diameter) to cut out even size pieces. Place those pieces onto a parchment paper lined large baking sheet. Work with the dough until you use it all and the tray is completely full. Then sprinkle some extra fine sea salt over the tops.
Place the tray into the preheated oven and bake for 15-18 minutes or until golden brown on top and dry on the inside. Let it cool down for 5 minutes.
Garnish the crackers with the topping – mix the cream goat cheese with the honey until well combined and then spoon small amounts evenly on top of the crackers. Top with small amount of pomegranate seeds.
Add to my favorite recipes
You can access your own personal list of favorite recipes in the My Account section. Click the My Account button at the top of this page.
You must have an active ZGYM subscription to access the favorites feature.