If you're familiar with my Nutrition Guide you know I try to add protein into my meals at least 3 times a day. Sufficient protein intake is not only important for muscle growth and recovery, but also for making enzymes, hormones, and other body chemicals and tissues. Our nails are hair are mostly made of protein!!  Maybe if I had more protein as a kid I wouldn't have to have extensions 🙂
Protein is always the hardest thing to add to your meal, because of the limited sources. Even if you're not a vegan or vegetarian, you're always stuck with just a few choices in form of animal proteins that are not always readily available. That's why I love poached chicken. It takes only 15 minutes to make yourself juicy protein out of lean chicken breasts that you can store in the fridge for at least 3 days and use for quick recipes, snacks, and salads. Besides that, it's easier and less messy then trying to grill your chicken breasts that won't be as good and as juicy in your salad as the poached chicken.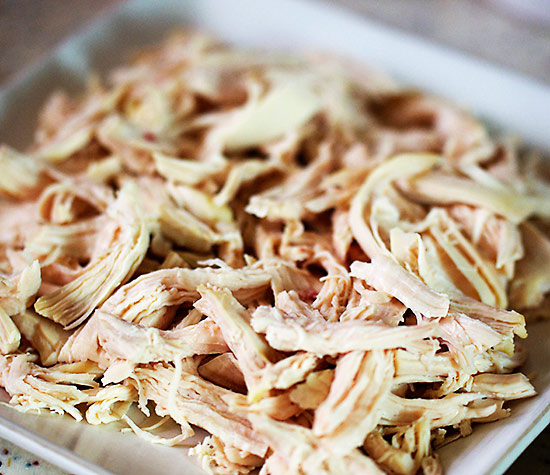 Instructions
Pick pot in which the chicken breasts can be completely submerged in water. Fill up the pot half way up with cold water and bring to boil. Don't add any salt or seasoning, just plain water. Once you see the water boiling, add the whole chicken breasts and make sure they are completely under water or you'll have to flip them after 5 minutes which is an unnecessary extra step you don't need to take if you have enough water and big enough pot.
Cook the chicken breasts in boiling water for 7 minutes, then turn the heat off and keeping the pot covered, leave the chicken in the hot water for another 8 minutes. Even tho the water is not boiling, the chicken continues to cook. Take the chicken out on a plate and cover with aluminum foil and let it cool down. Do not cut into the chicken until it cools down because the chicken is actually still cooking inside. This technique will ensure that your chicken is fully cooked through without losing any moisture keeping itself juicy and delicious. You can season the chicken with any spices you want when it's done and add it to any dish or salad. I will continue to post recipes that contain the poached chicken to show you how many variations of healthy meals you can create out of your precooked, stored and easy to make protein.
You can try your first poached chicken with this fun recipe: Chicken Salad on Apple Slices (FM)
Add to my favorite recipes
You can access your own personal list of favorite recipes in the My Account section. Click the My Account button at the top of this page.
You must have an active ZGYM subscription to access the favorites feature.