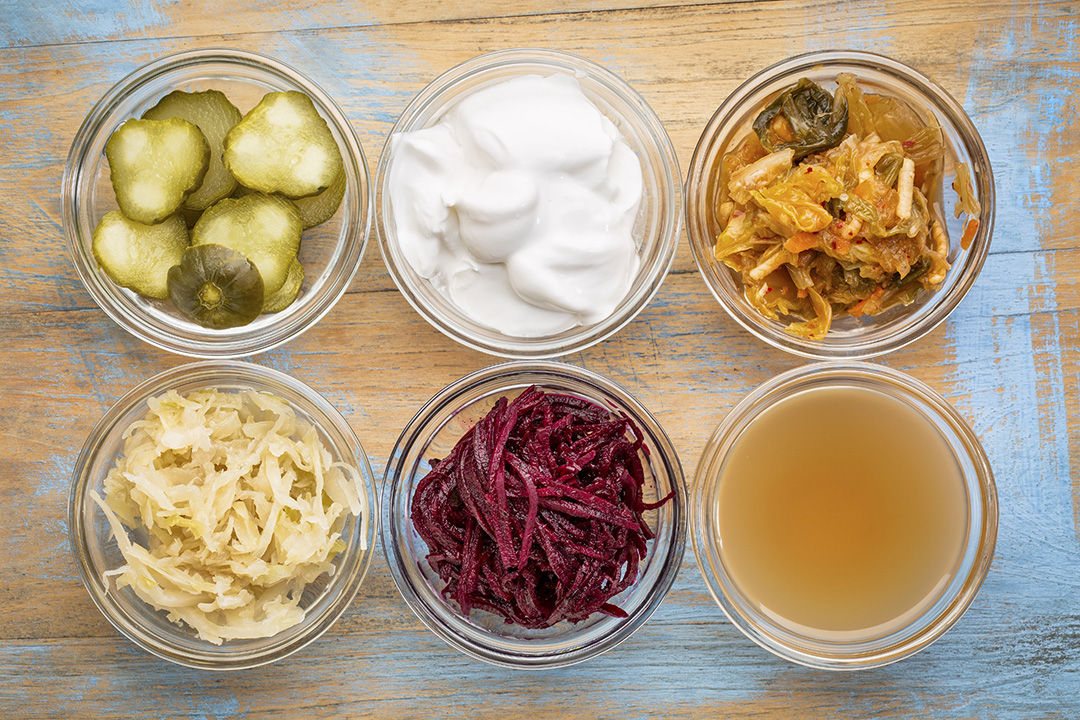 People are into pro/prebiotics.
And with good reason! You might have heard about probiotics being in yogurt and lurking around in your stomach somewhere and you know they're supposed to be good for you. But what are probiotics exactly?
Put simply, probiotics are good bacteria. But how can bacteria be good?
The National Center for Complemetary and Integrative Health (NIH) tells us, "Although people often think of bacteria and other microorganisms as harmful 'germs', many microorganisms help our bodies function properly. For example, bacteria that are normally present in our intestines help digest food, destroy disease-causing microorganisms, and produce vitamins. Large numbers of microorganisms live on and in our bodies. In fact, microorganisms in the human body outnumber human cells by 10 to 1. Many of the microorganisms in probiotic products are the same as or similar to microorganisms that naturally live in our bodies".
Probiotics and healthy gut flora have also been linked to preventative treatment for vaginal yeast and urinary tract infections, helping maintain a healthy body weight, making migraine headaches less common and severe, and even fighting neurodegenerative diseases like Parkinson's.
So, like the NIH says, we normally have a heathy amount of good bacteria, or probiotics, living in our gut. This is often known as gut flora. But your healthy, balanced gut flora can easily get thrown out of whack. Here are a few of the culprits:
If you get sick and are prescribed antibiotics. Antibiotics are powerful drugs. They wipe out almost all of the bacteria in your body, which kills what's making you sick and helps you to get better quickly. But antibiotics also kill all the good bacteria. Once the bacteria is gone it's really important to help your body get back into balance by replacing the good bacteria in your belly.
Colonics or a bad case of diarrhea. It's a little gross to think about, but if everything in your digestive system is quickly flushed out you can lose your colony of bacteria right along with it.
Poor diet. A diet high in sugar and processed foods can have a low amount of beneficial bacteria or "food" for the good bacteria that helps the good bacteria thrive.
So we should definitely have some probiotics in our lives and guts, yes? Here are some ways to up your colony of good bacteria.
Eating! Foods like yogurt (minimally processed and unsweetened), green peas, sauerkraut, kombucha, dark chocolate (yes!), kimchi, green olives, kefir, pickles, miso, cottage cheese, tempeh, and any fermented foods. If you're unfamiliar with fermented foods, check out my article here. And if you'd like to make your own fermented veggies, check out my tutorial/recipe here. It's super worth it and super delicious, trust me!
Supplements. There are tons of probiotic supplements out there. Any good health foods store will have a decent selection and lots of grocery stores are starting to carry them as well. (Especially more health conscious stores, like Whole Foods.) Make sure your supplements are in a refrigerated section. Bacteria are alive and will die in room or warmer temps.
Ok! So now you're ready to put lots of good probiotic good bacteria in your tummy. But there's a second step that's just as important and one you might not have heard of: prebiotics.
Remember when I said above that the good bacteria needs it's own food in your belly to thrive? Believe it or not you also need to feed your little bacteria buddies to keep them flourishing. You can take a prebiotic supplement or integrate prebiotic foods into your diet.
Legumes, beans and peas, oats, bananas, berries, jerusalem artichokes, asparagus, dandelion greens, garlic, leeks, cabbage, bran, root veggies, apples, and onions are all good sources of prebiotics that will keep your gut flora happy, healthy, probiotic-y, and flourishing.
So which 'biotic should you be taking? Both! Probiotic and prebiotics are absolutely vital to good health. Whether you're taking supplements or making sure you get plenty of probiotic and prebiotic foods in your diet, gut flora is something that shouldn't be neglected.
What are your experiences with pro and prebiotics? Do you take or eat them? How have they affected your health? Do you prefer supplements or foods? As always, I'd love to hear about your experiences in the comments.
In good health,
Zuzka