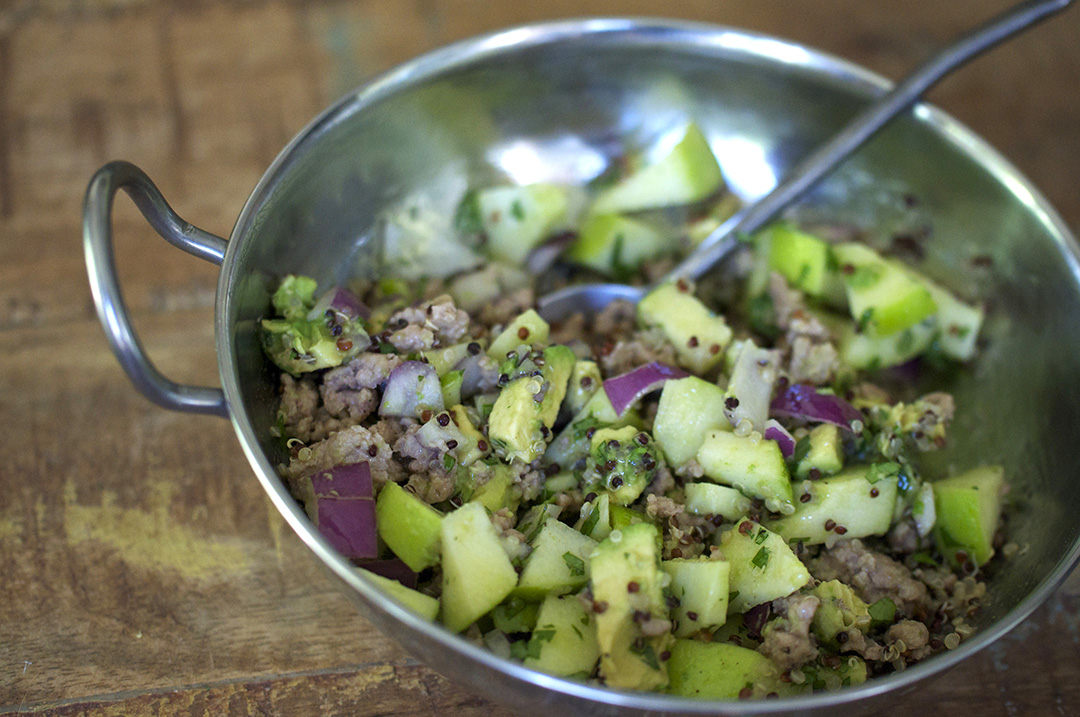 Ingredients for dressing:
2 tbsp extra virgin olive oil
2 tsp champagne vinegar
2 tsp honey
pinch of ground cumin
2 tbsp freshly squeezed lemon juice
salt & pepper to taste
Ingredients:
1/2 cup ground turkey
1/4 cup cooked quinoa
1 medium Granny Smith Apple, chopped
2 tbsp chopped red onion
1/4 medium avocado
2 tbsp fresh cilantro, chopped
salt & pepper
Instructions:
Make the dressing: Add all the ingredients for dressing into a blender and blend on high until smooth. Season with salt and pepper to taste.
Saute the turkey (no oil needed) in a medium size skillet over medium-high heat, stirring to break up any chunks, until cooked through, 6 to 8 minutes. Season with salt and pepper.
Mix the turkey with the quinoa, apple, onion, avocado, and cilantro, in a large bowl with 2 tbsp of the dressing. You can keep the dressing in the fridge for two days in a closed container.
Add to my favorite recipes
You can access your own personal list of favorite recipes in the My Account section. Click the My Account button at the top of this page.
You must have an active ZGYM subscription to access the favorites feature.