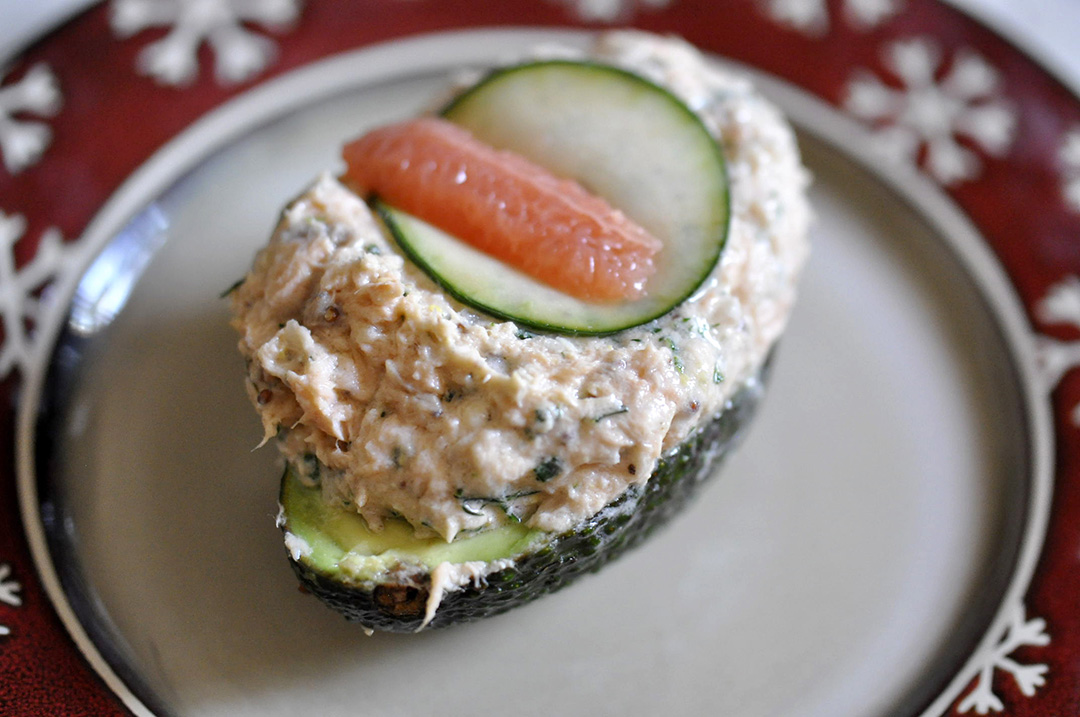 Ingredients:
2 pan-seared salmon fillets (See directions for pan-seared salmon below)
1/2 tsp finely chopped fresh dill
6 tsp champagne vinegar
Freshly squeezed juice of 1/2 lemon
4 scallions, finely chopped
Salt & Pepper to taste
1 large avocado
cucumber for garnish
grapefruit for garnish
Instructions for pan seared salmon:
Coat a large skillet with the grapeseed oil and heat over medium-high heat until it sizzles when you flick water on it. Season the salmon generously with salt and pepper on both sides and place the fillets in the skillet skin side down. Cook for about 4 minutes on each side or until cooked through.
Instructions:
In a medium bowl mash the salmon with the dill, vinegar, lemon juice, and scallions until combined.
Halve the avocado lengthwise and remove the pit.
Split the salmon salad into two equal portions and fill the avocado halves. The salad should stay on top of the avocado. You can garnish with cucumber and a piece of grapefruit.
Add to my favorite recipes
You can access your own personal list of favorite recipes in the My Account section. Click the My Account button at the top of this page.
You must have an active ZGYM subscription to access the favorites feature.