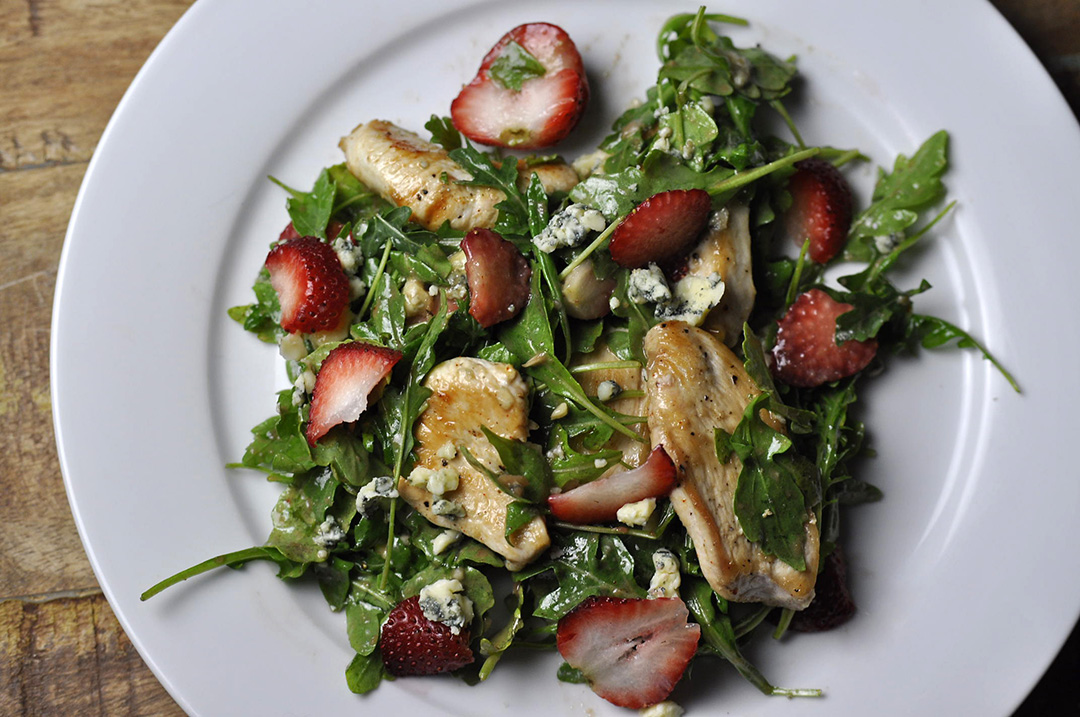 Ingredients for dressing:
1 tbsp shallot, minced
2 tbsp Swerve sweetener, granulated
3 tbsp sherry vinegar
2 tbsp balsamic vinegar
3 tbsp extra virgin olive oil
1/4 cup grapeseed oil (you can also use Algae or Avocado oil)
Salt & Pepper to taste
Ingredients:
1 lb skinless boneless chicken breasts, cut into 1/2 inch strips
2 tbsp cooking oil (coconut, avocado, algae, or grapeseed)
Paprika to taste
Salt & Pepper to taste
1 1/2 cups baby arugula leaves
2 cups sliced fresh strawberries
1/3 cup crumbled blue cheese
Instructions:
Make the dressing: Add all the ingredients together into a blender and blend on high until smooth. Season with salt and pepper.
Coat a large skillet with a thin layer of the cooking oil and heat over medium-high heat. Season the chicken lightly with salt, pepper, and paprika. Saute, stirring occasionally, until lightly browned all over and cooked all the way through.
In a large bowl, mix the arugula with the strawberries, blue cheese, chicken, and about 1/4 cup of the dressing. Serve right away.
Add to my favorite recipes
You can access your own personal list of favorite recipes in the My Account section. Click the My Account button at the top of this page.
You must have an active ZGYM subscription to access the favorites feature.