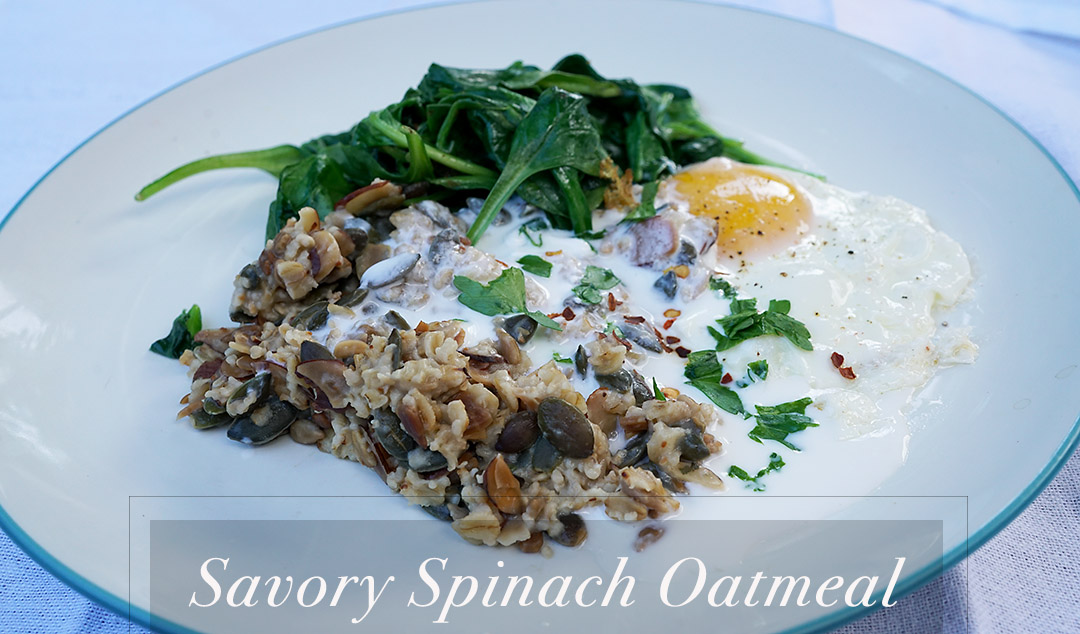 *yields one portion
Ingredients:
1/4 cup oats
2 tbsp sliced almonds
2 tbsp sunflower seeds
2 tbsp pepitas
3 tsp extra virgin olive oil
3 cups water
1 egg
handful of fresh spinach
1 small clove garlic, finely chopped
3 tbsp goat kefir or plain greek yogurl
salt & pepper to taste
Instructions:
Preheat oven to 350F degrees.
In a small bowl mix the oats, nuts & seeds and 1 tsp olive oil and mix well until coated.  Spread the oat mixture across a baking sheet. Toast for 10 minutes.
Transfer the oat mixture into a small sauce pan and add 3 cups water. Bring to boil, then turn the heat down to medium and boil for a few minutes until the oats absorbed the water and turned soft. Set aside.
Heat up 1 tsp olive oil in a small sauce pan and add the chopped garlic. Sauté until fragrant and then add the spinach and briefly wilt. Transfer the spinach with tongs on a plate and set aside.
Cook the egg sunny side up. Heat up a teaspoon of olive oil in a skillet over medium heat. Add the cracked egg keeping the yolk intact and in the middle of the egg white. Cover with lid and cook for about 2 minutes or until the egg white on top is set and firm.
Transfer the egg carefully on a plate right next to the spinach. Add the oatmeal and finish with dollop of kefir or yogurt. Season with salt & pepper.
Add to my favorite recipes
You can access your own personal list of favorite recipes in the My Account section. Click the My Account button at the top of this page.
You must have an active ZGYM subscription to access the favorites feature.