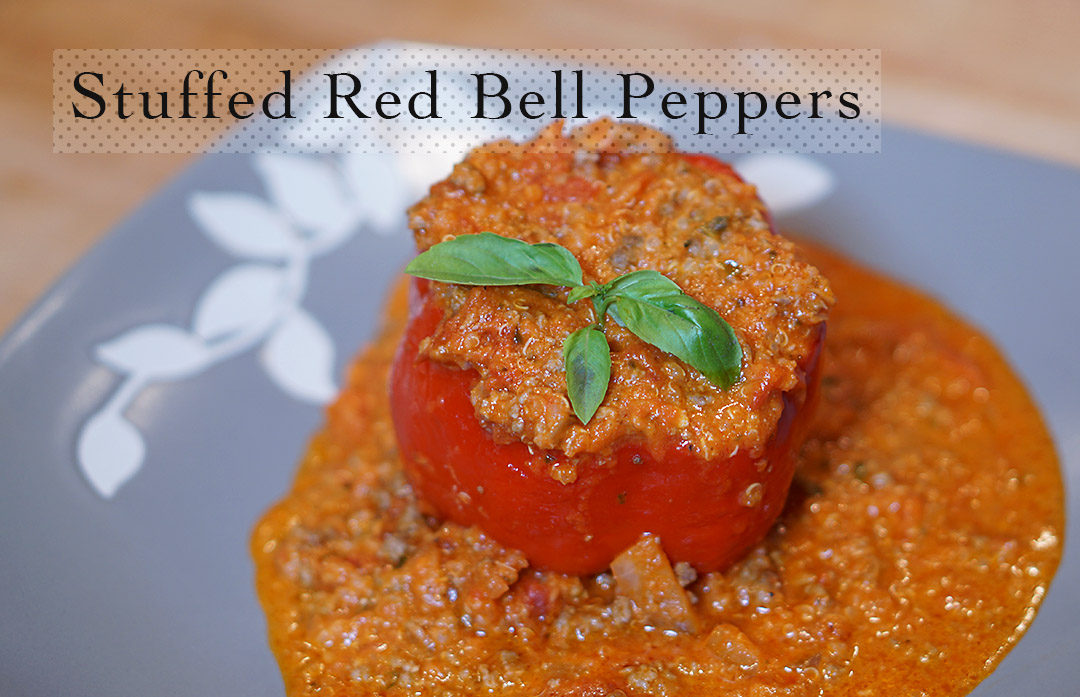 *Yields 4 large portions
This is the fastest way to make stuffed peppers that I know off. I used to follow a recipe that was fancier, but more messy and complicated. There's not much difference when it comes to the taste so I stick to this quick and lazy way.
Ingredients
4 large red bell peppers
1 lb ground beef
1 jar tomato sauce (Raos – I like the Vodka flavor)
1 cup uncooked quinoa
1 1/2 cup shredded mozzarella cheese
1/2 yellow onion chopped
1 clove garlic finely chopped
1 tbsp coconut oil
Salt & Pepper
Fresh basil (optional)
Instructions:
Preheat oven to 350F degrees and cook the quinoa according to the package.
Heat up the coconut oil in a large skillet over medium/high heat. Then add the onion and sauté for about 4 minutes until it starts turning golden. Add the garlic, stir, and then add the ground beef. Cook for about 7 minutes until the beef is done and cooked through. Season with salt and pepper.
Add the entire jar of the tomato sauce and 3/4  cup of shredded mozzarella. Allow the cheese melt completely, add the cooked quinoa and mix well to combine.
Cut the tops of the peppers and take out the seeds. Microwave them for 2 minutes and then stuff them with the quinoa / beef mixture and then cover the top of each stuffed pepper with an equal amount of the mozzarella cheese. There will be leftovers of the quinoa-beef sauce, but that's ok, just leave it in the pot.
Place the peppers on a baking sheet lined with parchment paper or a reusable liner and insert into the preheated oven. Bake until the mozzarella cheese on top starts to turn golden brown.
Transfer the stuffed peppers on to plates and top with some extra sauce mixture from the pot. Garnish with fresh basil leaves.
You can keep leftovers covered in the fridge for 2 days.
Add to my favorite recipes
You can access your own personal list of favorite recipes in the My Account section. Click the My Account button at the top of this page.
You must have an active ZGYM subscription to access the favorites feature.