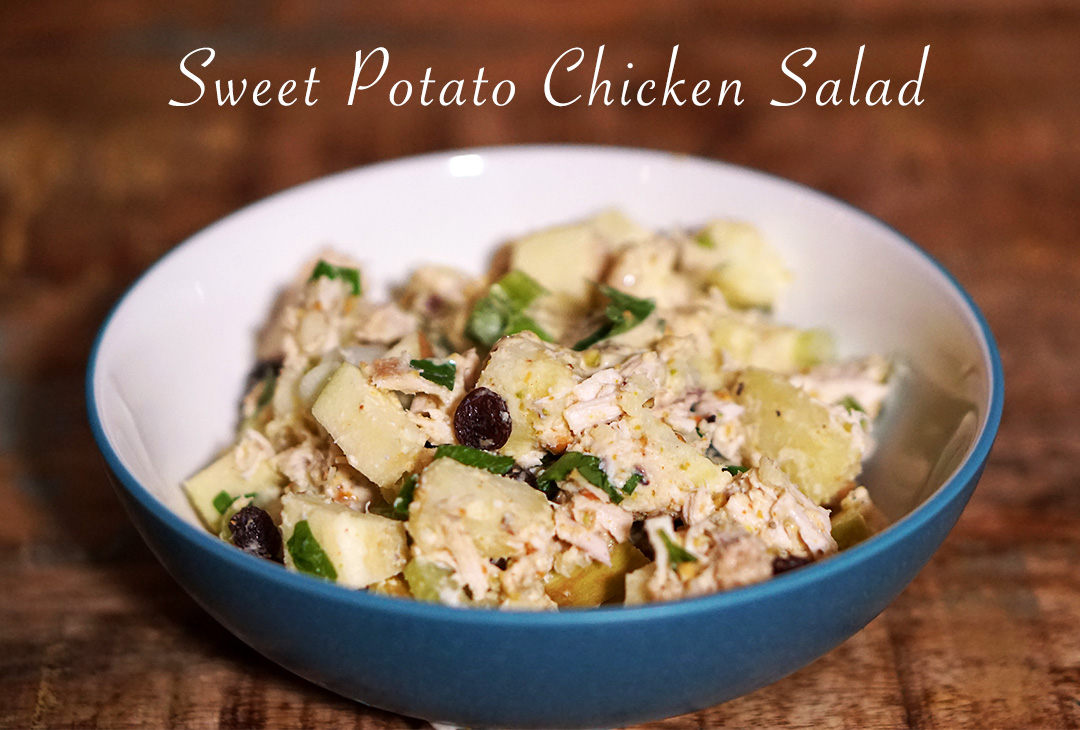 *This is a meal that is higher in carbs but low in glycemic index so it won't spike your blood sugar levels. If you're going for super fast fat loss, then make sure to do your high intensity workout the same day you want enjoy this meal (doesn't matter when) and keep the rest of the meals for the day low in carbs (FM).
Yields 2 portions
Ingredients
1 large sweet potato peeled and cut into small cubes
1 1/2 cup cooked, grilled or roasted cold chicken breast cut into small pieces (you can get a free range organic rotisserie chicken in the supermarket if you need to save some time, work and money)
1 fuji apple chopped
1 large celery stalk chopped
2 scallions finely chopped
1/4 cup raisins
2 – 3 tbsp fresh parsley leaves chopped
Dressing:
2 tbsp apple cider vinegar
1 tbsp extra virgin olive oil
1/2 tsp dijon mustard
pinch of curry powder
pinch of smoked paprika
pinch of freshly ground black pepper
1 tsp honey
1/3 cup roasted salted pistachios
1/4 cup mayo
*no need to add extra salt – the mayo, mustard and nuts are salty enough
Instructions:
Bring about 5 cups of water to a boil in a medium size pot and add the sweet potato. Cook for about 7-8 minutes until tender. Drain and set aside to let it cool down.
Prepare and chop all the ingredients for the salad, add into a large salad bowl together with the cooled down potatoes and gently toss.
Prepare the dressing. Place the pistachios into a blender (I used my magic bullet) and shred them into very small pieces – almost a dust but all of it.
Combine all the ingredients for the dressing in a small bowl and add the shredded pistachios.
Divide the salad into two portions and use about 2-3 tbsp of the dressing for each portion. Save the rest of the dressing in a Tupperware container in the fridge.
Add to my favorite recipes
You can access your own personal list of favorite recipes in the My Account section. Click the My Account button at the top of this page.
You must have an active ZGYM subscription to access the favorites feature.