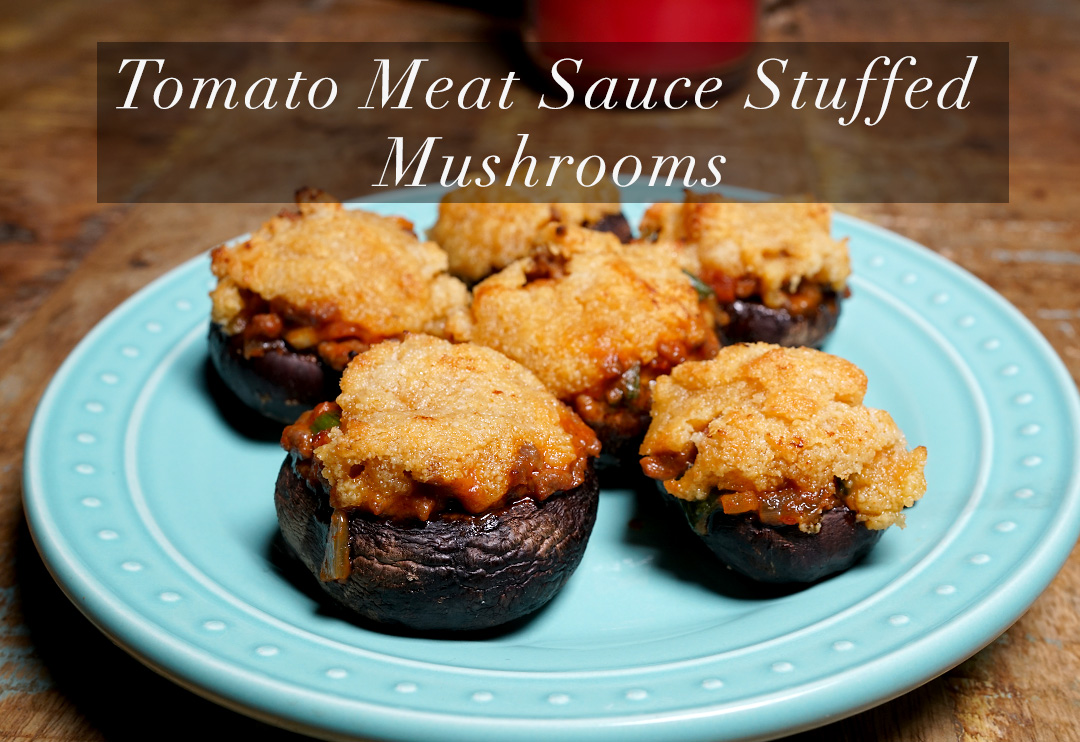 *Yields 12-15 stuffed mushrooms. 
Ingredients for the meat sauce:
1/2 lb ground beef
12-15 medium to large cremini mushrooms (try to pick a good size ones that you can easily stuff), cleaned and stemmed
1 small shallot coarsely chopped
1 tbsp cooking oil (I use algae or coconut oil from Thrive Market)
1/3 cup shredded mozzarella cheese
1/2 cup tomato sauce (I use Raos – I like the Vodka flavor)
3 scallions chopped
Topping:
2 tbsp grass-fed butter
2/3 cup almond flour
1/3 cup finely grated parmesan cheese
1/3 cup cheddar cheese
Instructions:
Microwave the mushrooms hole side down on a plate lined with paper towel for 2 minutes.
Dry the mushrooms with paper towel.
Heat up the oil in a large sauce pan over medium heat and saute the shallot until fragrant and lightly golden.
Add the ground beef and cook through completely, then add the scallions, tomato sauce and mozzarella cheese. Cook for couple more minutes until cheese is completely melted.
Turn on the broiler and stuff the mushrooms with the meat sauce.
Mix all the ingredients for the topping in a medium size bowl.
Place a table spoon or so on top of each stuffed mushroom to create a thick topping.
Place the mushrooms on a large baking sheet and broil for 2-3 minutes until the topping turns golden brown.
Add to my favorite recipes
You can access your own personal list of favorite recipes in the My Account section. Click the My Account button at the top of this page.
You must have an active ZGYM subscription to access the favorites feature.