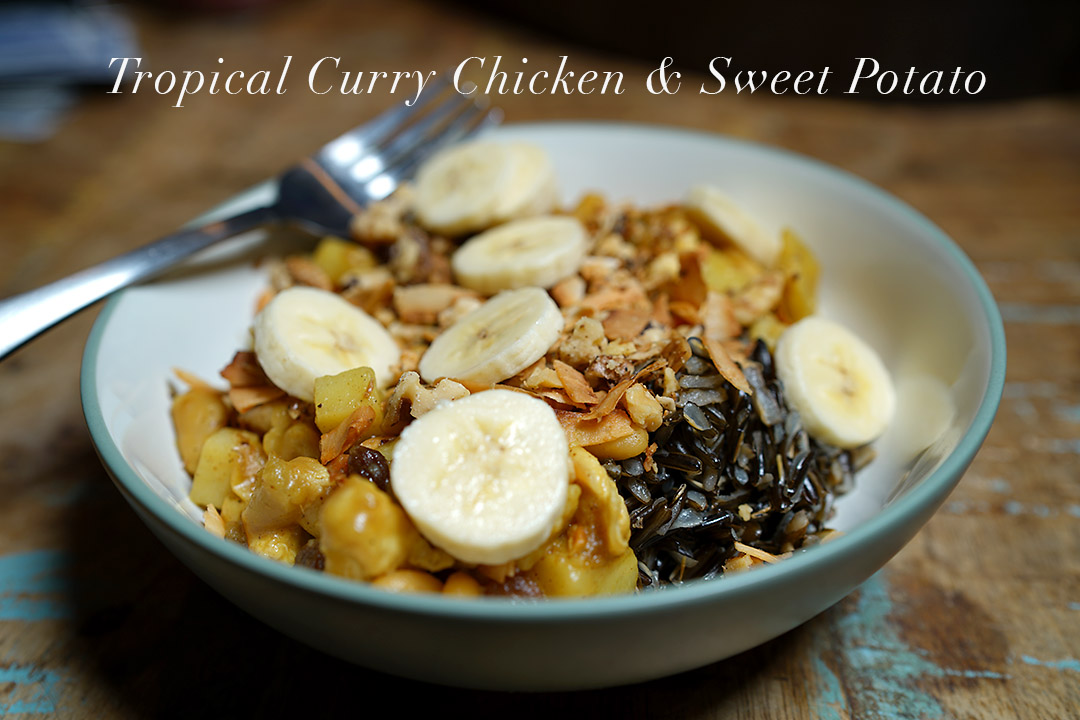 Make sure to do your workout on a day you decide to have a meal rich in carbs. Good news – you have a large window of opportunity to do your workout. No need for special timing. Just make sure you do your training the same day and try to keep the rest of your meals low in carbs.  The carbs in this meal are all rich in important nutrients, so you'll be nourishing your body with a  lot of goodness.
This meal has a delicious, sweet and spicy tropical flavor. It might sound complicated at first but it's actually very easy to prepare. You will have also some leftovers for the next day, which is always a bonus!
*Yields about 4 large portions
Ingredients:
1 large sweet potato – peeled and chopped into small cubes
1 cup uncooked wild rice
1 tbsp butter
1/4 tsp sea salt
1 lb chicken tenders (or chicken breasts) chopped into small pieces
1 can (15oz) white kidney beans – drained and rinsed
1 can (13.5 oz) coconut milk
1 shallot – coarsely chopped
3 celery stalks – chopped
1 carrot – chopped
1 large clove garlic – finely chopped
1 tbsp fresh ginger – peeled and grated
1 tbsp curry powder
1/2 tsp cajun seasoning
3/4 tsp sea salt
1/4 tsp black pepper
2 tbsp coconut oil
1/2 cup raisins
3/4 cup chopped walnuts
3/4 cup flaked unsweetened coconut
2 bananas (1/2 banana for one serving. You can always freeze the other half and save it for a smoothie)
Instructions
Bring 2 cups of water to a boil in a medium size pot. Then lower the heat to low, and add the rice with 1 tbsp butter and 1/4 tsp sea salt. Let it simmer for 55 minutes until the water has completely evaporated and the rice is tender.
While the rice is cooking, you can prepare and chop all the ingredients.
Heat up one tablespoon of coconut oil in a large skillet over medium/high heat. Then add the chopped chicken tenders and cook until it's golden brown on all sides. Then add about 3-4 ice cubes into the skillet and cover with lid. Let it cook until the chicken is completely cooked through. About 5-7 minutes. Test it by cutting one of the pieces in half. If it's it's white in the middle with no sign of pink, it's done. Get the skillet off the heat and set aside.
Heat up one tablespoon of coconut oil in a large deep pot over medium heat, then add the shallot, garlic, ginger, carrot, celery, and sauté for about 4 minutes until the onion becomes translucent and start turning light golden color.
Add the curry powder, cajun seasoning, salt & pepper, and stir well to combine. Then add the sweet potato, kidney beans, coconut milk and raisins. Stir again to combine, then turn the heat down to low/medium, cover with lid and let it simmer for about 15 minutes until the sweet potato becomes tender but not too soft.
Preheat the oven to 325F degrees and then toast the walnuts and flaked coconut on a baking sheet for about 3 minutes until you notice the coconut turning golden brown.
When the rice is cooked, you can scoop about 1/2 cup into a bowl, then add one ladle of the Tropical Curry and sprinkle with some toasted walnuts and coconut. Add a few slices of banana on top. Serve and enjoy!
Add to my favorite recipes
You can access your own personal list of favorite recipes in the My Account section. Click the My Account button at the top of this page.
You must have an active ZGYM subscription to access the favorites feature.