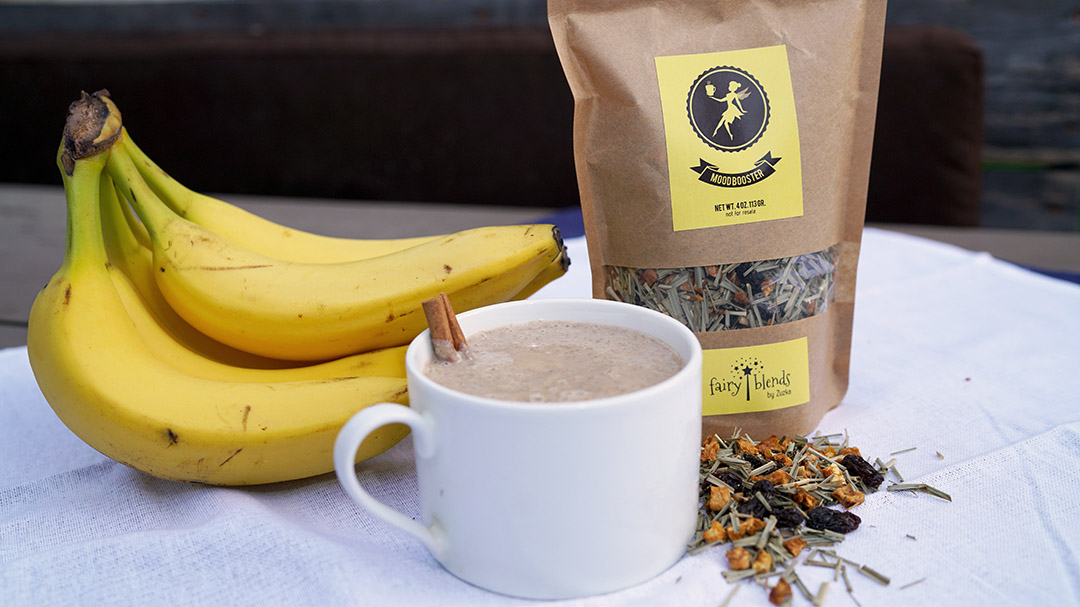 *If you have carb sensitivity or if you follow low carb diet, you might want to enjoy this smoothie on your high intensity training day. 
** This recipe yields one serving
This is a different kind of smoothie – perfect on colder days when you feel like being all cozy, and have cravings for something sweet, delicious, yet healthy and full of good nutrients.
Ingredients:
2 tbsp MoodBooster Tea from Fairy Blends 
1 ripe banana
4 tbsp sliced almonds
1 date
1 cup boiling water
Instructions:
Pour the boiling water over the 2 tbsp of MoodBooster tea and let it steep for about 4 minutes. The dry apples in the tea should be re-hydrated and soft.
Pour the cup with the rehydrated tea into the high speed / high performance blender together with the rest of the ingredients and blend until completely smooth.
Pour into a tea cup and garnish with cinnamon stick. You can also sprinkle some cinnamon on top.
Tip: It's really important you use a high speed blender that can turn even the hard pieces of lemon grass in the tea into a smoothie. I use Vitamix for most of my recipes, but this one I made in my new blender from Cleanblend  which is more affordable and can do the job. I highly recommend it.
Add to my favorite recipes
You can access your own personal list of favorite recipes in the My Account section. Click the My Account button at the top of this page.
You must have an active ZGYM subscription to access the favorites feature.