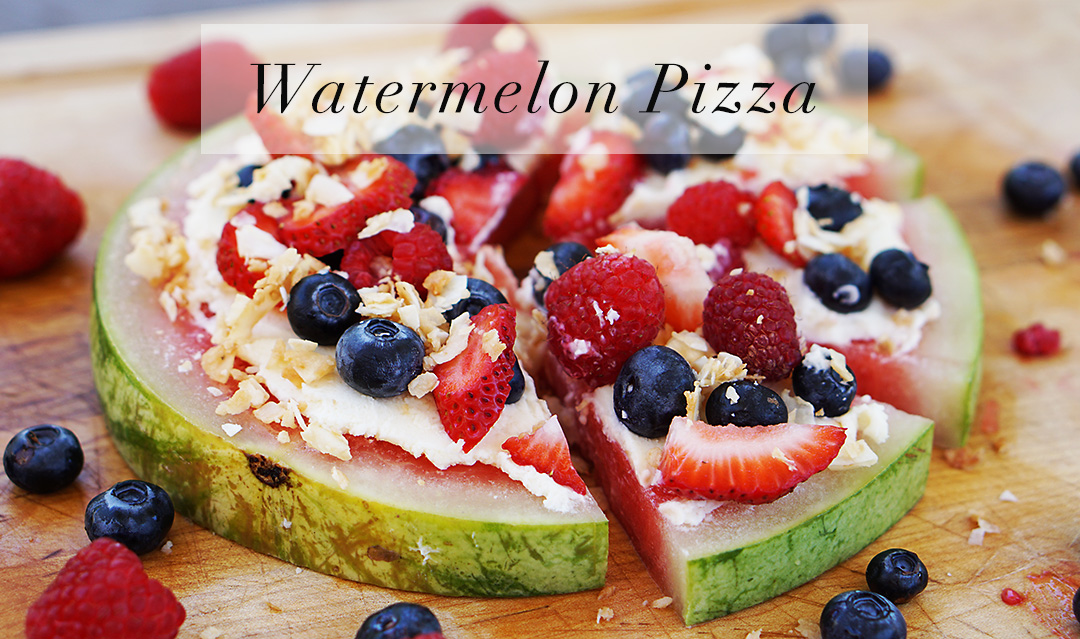 This is a perfect dessert you can serve at your 4th of July party this year. Honor the Independence Day and enjoy this delicious, healthy summer dessert with your friends and family.
*yields 2 pizzas
Ingredients:
2 round watermelon slices
3/4 cup mascarpone cheese
4 tbsp Swerve (granulated sweetener)
1/2 cup unsweetened coconut flakes
2 handfuls of mixed blueberries, raspberries and strawberries
1/4 tsp vanilla extract
Instructions:
Add the coconut flakes and one tbsp sweetener into a small sauce pan and brown it slightly over light/medium heat stirring frequently. Be careful not to burn the flakes. Set aside on a plate and let it cool down.
Mix the remaining 3 tbsp sweetener with mascarpone cheese and add vanilla extract. Mix until well combined.
Spread 1/2 of the cheese mixture over the watermelon slice avoiding the edges.  Distribute one handful of mixed berries evenly across the cheese and then sprinkle 1/2 of the toasted coconut flakes over the top of the berries.
Do the same thing with the other slice of the watermelon. Serve immediately or store in the refrigerator covered for up to 3 days.
Add to my favorite recipes
You can access your own personal list of favorite recipes in the My Account section. Click the My Account button at the top of this page.
You must have an active ZGYM subscription to access the favorites feature.