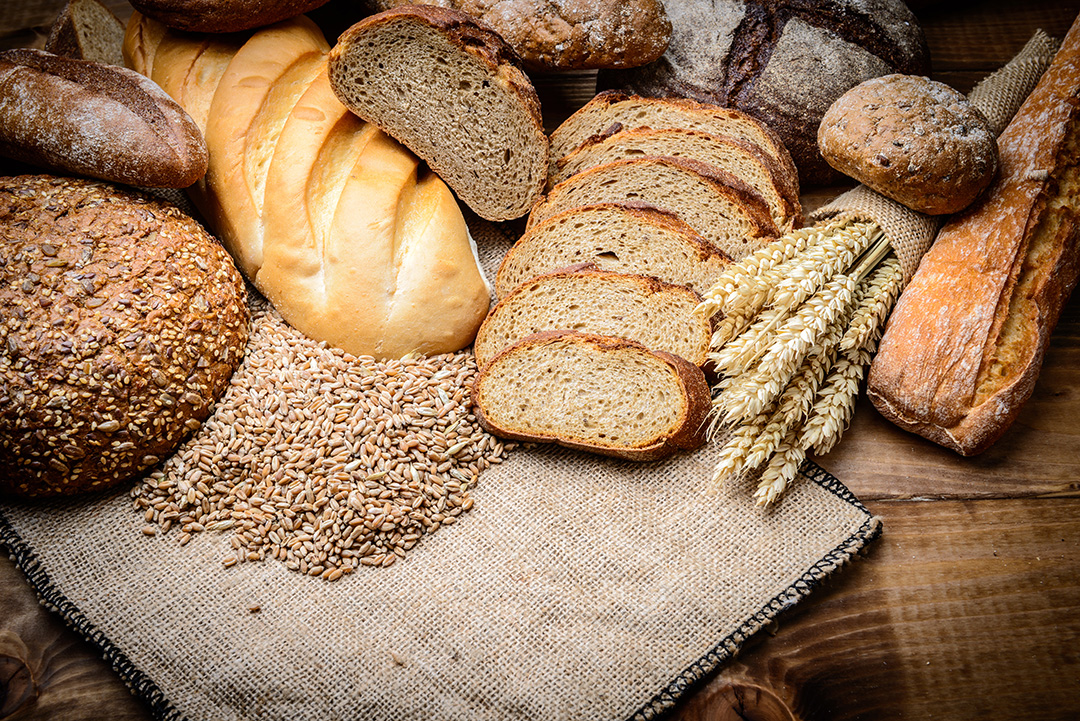 Many people choose not to eat bread or any products that contain grains. Some people only want to avoid gluten. Some people just want to avoid carbs. But I would hazard a guess that lots and lots of people have a vague idea that bread and wheat are bad for us but they're not sure why.
 Gluten, Gluten, Gluten.
What the heck is gluten and why is it apparently evil? Nowadays, people are blaming gluten for everything from digestion issues and inflammation to skin problems and mood disorders. Gluten is a general name for the strands of proteins found in "wheat, rye, barley and triticale – a cross between wheat and rye. Gluten helps foods maintain their shape, acting as a glue that holds food together. Gluten can be found in many types of foods, even ones that would not be expected".
Some people have a sensitivity or an intolerance for gluten, just like people who are lactose intolerance. However, intolerance is often confused with Celiac Disease. Celiac Disease is an autoimmune disorder that causes the body to attack the small intestine whenever gluten is ingested. These attacks damage the small intestine and make it difficult for the person with Celiac Disease to absorb nutrients. This can lead to tons of serious health problems like anemia, chronic fatigue, brittle bones, digestive disorders, cancer, and even death. To learn more about Celiac Disease (or if you think you might have it), click on this link and check out the Celiac Disease Foundation website.
I Eat Gluten and Feel Fine
 For those of us who can tolerate gluten there then arises another question. Is it ok to eat bread?
If you're trying to keep a really low carb diet, then it's probably best to give bread a pass. But let's say that you're fine with a small (or larger) amount of grains in your diet. Perhaps you enjoy one or two pieces of toast with your delicious runny-yolked eggs in the morning. Super! But don't reach for that package of Wonder Bread just yet.
Breads, just like any food, are not all created equal. First of all, bread is a processed food and that makes making the right bread choice more complicated. Whether you're the one doing the processing (if you bake your own) or the company you're buying it from does, there's a lot to consider when you're choosing your bread.
If you want to make bread, great! That's a big step. It can be really rewarding to make your own bread form scratch. But please keep in mind that even if you make bread yourself, that doesn't make the white processed grocery store flour any healthier. Here's a great recipe for walnut bread from my website. It also happens to be gluten free, if you have Celiac or an intolerance.
If you would prefer to buy bread or want to eat some grains, there's really only one brand of bread I would recommend; Ezekiel Bread.
Why Ezekiel?
 1. Sprouted Grains. "Sprouting is the natural process that involves seeds germinating and the plant sprouting out of its shell when coming in contact with water. So, when foods like Ezekiel bread are labeled 'sprouted', this simply means that this natural process was mimicked, leading to a ton more nutrients and healthful benefits. Sprouted grains and legumes are much lower in gluten, and because the sprouting process breaks down enzyme inhibitors, the bread is, therefore, easier to digest and much more nutrient dense".
2. No Sugar! Food For Life, the company that makes Ezekiel Bread, says, "We don't use refined sugars. When sugar is refined and processed there are many harmful ingredients that are added to the sugar as a result. Instead, we use malted barley, a natural sweetener produced from sprouted barley, which is basically a carbohydrate comprised mostly of complex carbohydrates rather than the "sugar" carbohydrates.
3. A Complete, Organic, Meat-Free, Fiber-Full Protein. Ezekiel bread contains zero flour (they don't grind the grains and legumes that small) and is made up of:
Ingredient List:
Organic Sprouted Wheat, Filtered Water, Organic Sprouted Barley, Organic Sprouted Millet, Organic Malted Barley, Organic Sprouted Lentils, Organic Sprouted Soybeans, Organic Sprouted Spelt, Fresh Yeast, Organic Wheat Gluten, Sea Salt.
This ingredients list makes Ezekiel Bread a complete source of protein that's similar to the protein found in eggs and milk. Non-animal proteins leave a much smaller carbon footprint. Ezekiel Bread also contains all 9 essential amino acids and some fiber. And we all know that fiber makes us feel fuller longer and places the food containing it lower on the glycemic index.
4. Proven. You don't just have to take my word, the word of respected food bloggers. or the word of the company that makes Ezekiel Bread. Studies have shown that sprouted grains have a much weaker effect on the body's glycemic response (meaning, sprouted grain don't cause a huge and detrimental sugar spike) and that regular whole wheat bread doesn't have the same benefits.
What do you think? Do you currently eat bread? If not, tell me why. Do you eat Ezekiel Bread already? Will you try it now? Do you have another brand of sprouted grain bread you love? As always, I'd love to hear about it below in the comments.
In good health,
Zuzka
Sources: