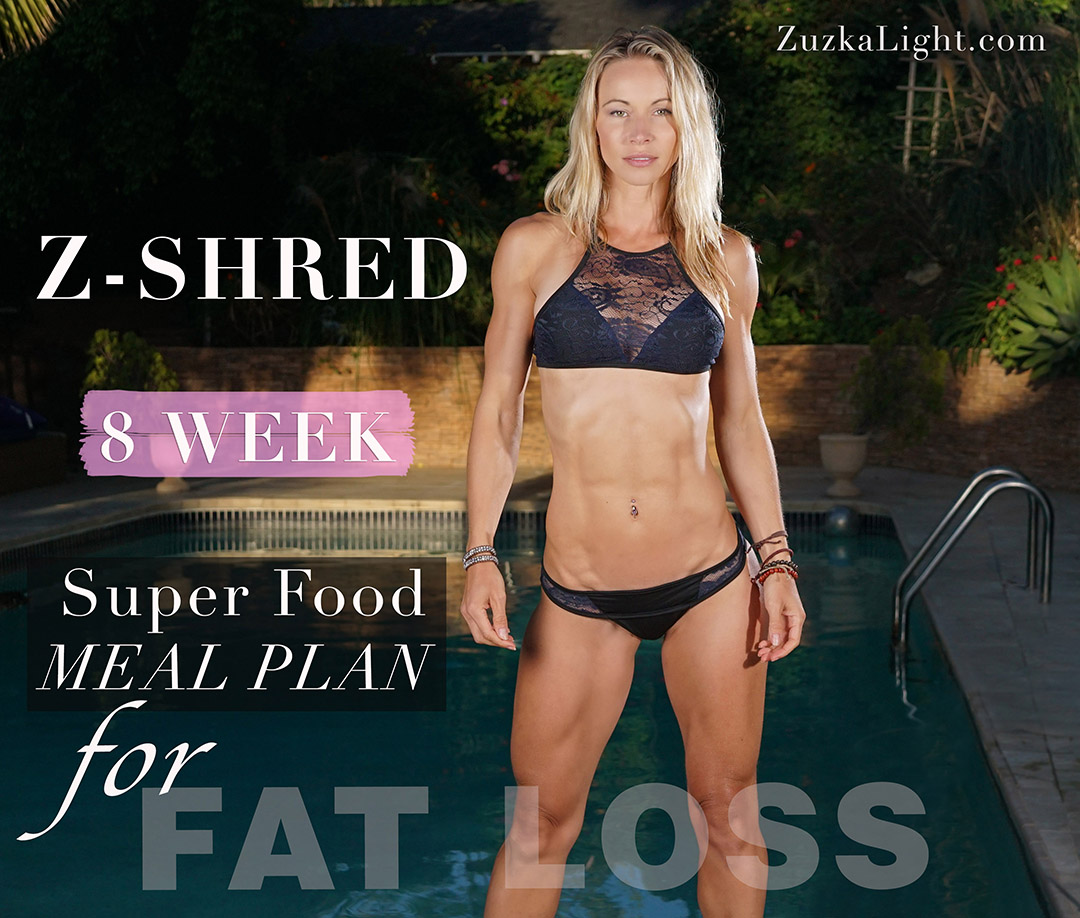 People often ask me how it's possible to stay so lean and continue to improve my fitness level with workouts that are only 15 – 20 minutes long. My ZGYM™ members who have already experienced the benefits of my workouts can testify that you can get fit and strong with short, high intensity workouts, if you stay consistent. But what about those abs and lean legs? Is it possible to see more definition just from daily short exercise? The answer is NO. You can't, I can't, nobody can. The key to a leaner body composition is in your kitchen. So let me tell you how my Z-Shred Super Food Meal Plan can help you achieve your goal to get leaner and meaner without risking your health or buying into some silly fad diet.
This meal plan is a comprehensive guide for those who want to burn fat, get lean, improve their metabolic health, and/or lose weight and fat. It's based on the latest nutritional research, logic, hard earned lessons, and my own personal diet approach. I've been following the core of this diet for a few years. But this new meal plan represents the latest changes I've made in my own diet that have helped me to achieve dramatic improvements in my health, body composition, and exercise performance. In this plan, you'll get all the information you need, to lose fat and keep it off. Not only will you lose fat, but adopting this diet as a lifestyle will also help slow down the aging process, improve your skin elasticity, and boost your energy and immune system.
The meals you'll be eating for those 8 weeks of following the Z-Shred Meal Plan are delicious, whole food based recipes that will make your journey to a leaner you a pure joy. If you follow my meal plan, you don't have to worry about counting calories or macronutrients.
You guys also asked why are the meals in the plan repeating – don't worry you won't have to cook the same meal again and again – you're going to cook once and eat twice or three times. This meal plan is for those of you who have busy life, which is often the reason why people fail to eat healthy. Most people don't have the time to cook all their meals every day. I don't have time for that either. I always make extra portions when I cook to have meals ready for the next day. It also helps to save you money and not waste food. Now if you're someone who can afford to waste food, cook three times a day, and doesn't like to eat leftovers, then I guess this meal plan is not for you 🙂
I designed this program to be super easy to follow and it includes:
• 40 Page Z-Shred PDF Book Download
• Latest research in nutrition science
• Healthy eating habits
• 8 week meal plan
• Printable Shopping Lists
• Healthy & delicious recipes
• Basic cooking techniques
• Kitchen make over
• Motivational techniques
• How to track progress
• 2 month ZGYM™ Membership Coupon
Here is a preview of the front page when you first access the Z-Shred Meal Plan. Make sure to read through all 40 pages to understand what this meal plan is about and how to get the most out of it.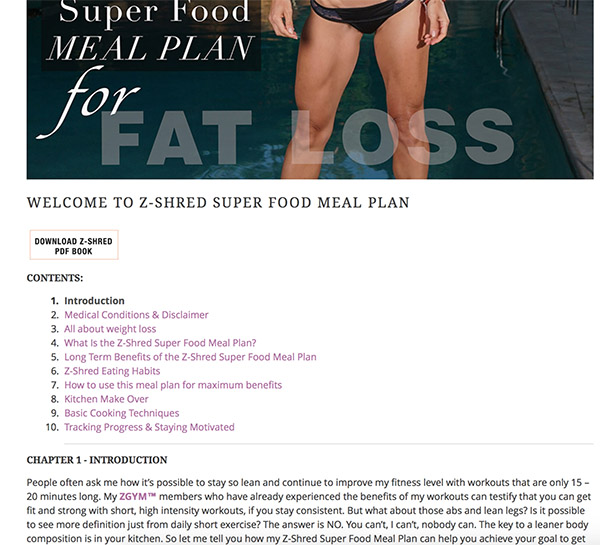 You can find your 8 week meal plan on the same page. Just scroll down and open your first week. Here's an example of one week overview.
Here's what one day overview looks like. There are 3 main meals and 5 snack options. Each meal opens into a recipe.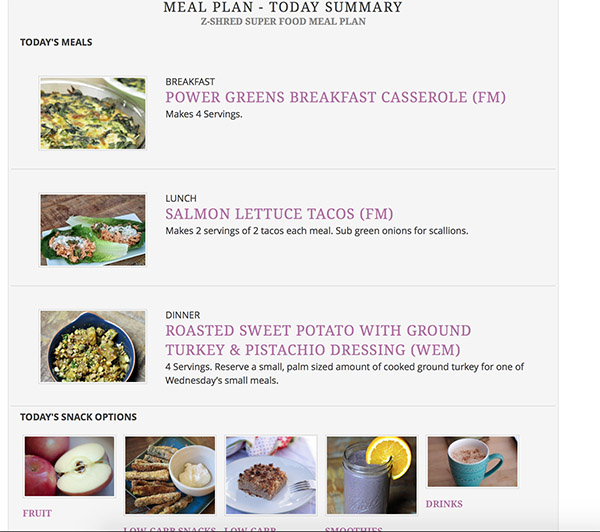 If you live in the US, you won't have a problem to find all the ingredients from the shopping lists. I know that those of you guys who live in different countries might be concerned whether you'll have access to some of the foods from the meal plan. Here's a general overview of the ingredient included in the shopping lists:
fruits & vegetables & legumes (bananas, oranges, apples, berries, peaches, carrots, avocados, sweet potatoes, zucchinis, bok choy, spinach, kale, arugula, broccoli, cauliflower, bell peppers, chili peppers, lemon, lime, green beans, cabbage, black beans, chickpeas, corn, mushrooms, and herbs)
nuts & seeds (almonds, walnuts, pecans, cashews, sunflower seeds, chia seeds, flax seeds, pistachios, pumpkin seeds)
beef, chicken, salmon
Grass-Fed Dairy products – kefir (or plain greek yogurt)m cheese, butter, cream (which you can always swap for coconut milk)
eggs
coconut milk, almond milk
almond flour, coconut flour, unsweetened cocoa powder, Swerve sweetener or stevia,
Coconut oil, extra virgin olive oil
other: xanthan gum, baking powder, baking soda, vinegar (some recipes ask for things like champagne vinegar, however you'll be fine with rice and balsamic vinegars), vanilla and chocolate low carb whey protein powder (with less than 3g of carbs per serving)