I'm a total junkie for a new home exercise equipment. It brings more fun into my training and I like the challenge of learning new moves and skills. Besides, every time you challenge yourself with something new, you're making even better progress because you're forcing your body to adapt to a new stimuli which always comes with gains. The Terra Core bench is a real treat for me. Here's my question to you guys, would you like me to make a workout program using the Terra Core?  I know that not all of you are interested to spend money on another exercise equipment, but if you do happen to be interested, let me know in the comments. Maybe if there's enough of you guys who would like a new series in the ZGYM or a stand alone program, I could get us a good discount. Right now I  have for you a 25% coupon code "Zuzka" which you can use at VicoreFitness.com
Don't forget to check my Instagram today. I will be announcing the winner of the Terra Core Giveaway.
Workout Breakdown
Backward Lunge Kick Up x 10/10
Ballerina Plie Squat / Ballerina Balance Squat x 5
Deadlift / Overhead Backward lunge (on each leg) x10
Balance Squat Pulses x 10
Push Up / Deadlift x 10
IF YOU NEED A BOOST OF ENERGY AND METABOLISM FOR YOUR WORKOUT, GET MY PRE-WORKOUT PROTEIN BLEND WITH FAT BURNER.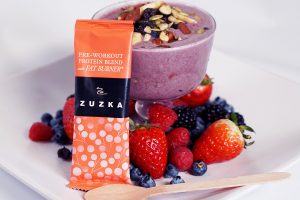 Add to my favorite workouts
You can access your own personal list of favorite workouts in the My Account section. Click the My Account button at the top of this page.
You must have an active ZGYM subscription to access the favorites feature.