This is just a bonus workout on top of your ZGYM training. Don't forget to do your ZGYM workout for today. If you're not a ZGYM member, you should know that this workout is not enough to get in shape. It's just an extra bonus you can add to your full length workout. The easiest way to get in shape is to join ZGYM and start working out with me daily. Always check the latest Weekly Workout Schedule and pick a workout that suits your fitness level.
P.S. Thank you for all of your comments you've been leaving on the latest Coffee Talk – I can't wait to do the next one!
Equipment: Power Band
Fitness Level: All Levels
Workout Breakdown
Side Step Squat / Heel Raise x 10/10
Jump Jack Burpee x 10
Side Plank Lift / Leg Lift x5/5
Hip Raise Abduction x 10 / Ballerina Hip Raised Abd. x 20 x 2
IF YOU NEED A BOOST OF ENERGY AND METABOLISM FOR YOUR WORKOUT, GET MY PRE-WORKOUT PROTEIN BLEND WITH FAT BURNER.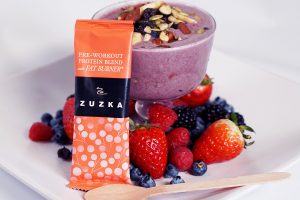 Add to my favorite workouts
You can access your own personal list of favorite workouts in the My Account section. Click the My Account button at the top of this page.
You must have an active ZGYM subscription to access the favorites feature.