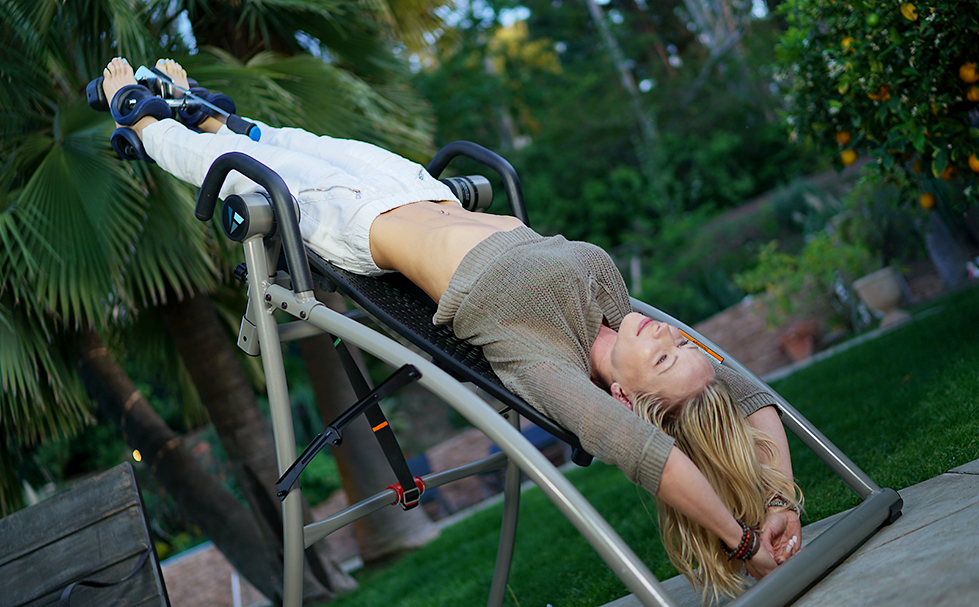 Millions of people suffer from back pain. I've personally experienced it myself, having a herniated disc. I've written about it before, but I've found that the most relief comes from my postural therapy practice. If you've never heard of postural therapy, check out my video series that guides you through exercises for reducing pain throughout the body. It really works.
Basically, postural therapy is a way to treat pain through a series of gentle stretches and exercises that are designed to restore alignment to the body. In fact, I'm so passionate about the method that I've been certified through the Egoscue University as a Postural Alignment Specialist. It's helped me to understand how crucial alignment is to your body's health, function and prevention of injury.
In that same regard for healing the body through non-medicated and non-invasive methods, I've also become really interested in inversion therapy. Have you heard of it? Inversion therapy involves a table or a chair that tilts your body until you're in an inverted position (head down, legs up). There are also boots you can mount to a doorway to strap yourself in and hang completely upside down, but that's a pretty agressive form of inversion therapy. The table and chair are much more gentle. The idea is that this head-below-feet position not only takes all the pressure off of your spine and gives it a break, but will actually stretch the vertebrae apart and allow each joint to become decompressed.
When I heard about the health benefits of inversion therapy, I really wanted to try it for myself as an addition to my postural therapy. So I got a table! My inversion table is a Teeter Contour L5 and I've really been enjoying it.
The benefits to being inverted are really interesting to me. According to the Teeter website, "inverted decompression creates an ideal stretch that improves spinal health and targets back pain by helping to 1) rehydrate discs, 2) reduce nerve pressure, 3) realign the spine and 4) relax tense muscles". And one of the reasons I like this brand is because they have several published medical studies that back up their claims.
So, what do all those claims mean? Well, imagine that your spine is like a slinky. When you invert your body your spine gently stretches creating spaces between each vertebrae, like pulling a slinky apart. In between each vertebrae there is a small vertebral disc (like a little pad) which acts like a shock absorber, holds the spine together, and allows for spinal mobility.
When you're sitting, standing, or active, the vertebrae and discs are compressed by your body weight and gravity. This daily pressure squeezes fluid out of the discs. Over time the discs in your spine become flatter and dryer. When you're in an inverted position the extra space between the vertebrae allows the discs to reabsorb fluid and become rehydrated and plump.
When discs become dehydrated and compressed the space between the vertebrae is much smaller. This can cause pressure or pinching of the nerves and subsequent pain, often the kind that radiates down into your limbs. Tilting your body into the inverted position takes all the pressure off of those nerves, often allowing for immediate relief from pain.
Being in an inverted position also allows for the spine to realign itself. As I said above, misalignment is the source of most injuries and pain. It's especially important to realign your spine periodically in today's world where many people have poor posture from hunching over screens and general inactivity.
Finally, it just feels really good! In an inverted position you feel every muscle in your body being gently stretched without having to move yourself (i.e. passive stretching). Blood rushes toward your head and increases circulation. I personally find it invigorating, calming, and centering. Plus I get some really good idea while I'm hanging around down there!
You can get an inversion table like I have but they also have inversion chairs. The seated inversion position is a more supported position without as much pressure on the leg joints and can be a good option for people who don't want extra stress on their legs.
I think that the risks associated with this kind of therapy are low, but the Mayo Clinic says inversion therapy causes an increase in blood pressure and therefore, doesn't recommend it for people with high blood pressure, heart disease, or glaucoma (because of the increased pressure in your eyeballs). As always, you should check with your doctor before starting any kind of program or therapy.
So, have you tried inversion therapy? If so, did you try boots, a table, or chair? Have you successfully treated your back pain in another way? Have you tried my postural therapy series? As always, I'd love to hear about your experiences in the comments.
In good health,
Zuzka
P.S. This is not a sponsored post to promote any product. I genuinely like my inversion table.