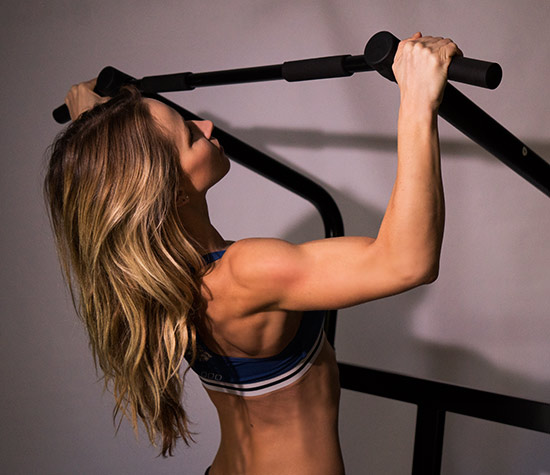 Enjoy the first workout in the Black Diamond Workout series that focuses on your upper body and abs!
I had so much fun and can't wait to get stronger and see my own progress.  I strongly suggest you record yourself doing pull ups now before you start the series so that you see how much you have improved in 5 weeks when it's over. I have included modifications in the workout schedule for those of you who don't have the pull up bar. Click on the Pull-up link to see how to do assisted pull ups and the pull up substitute: bent over row with dumbbells.
Have fun and really push yourself!
Z
Cool Down & Stretching
Workout Breakdown
1. One Leg Push Ups x 3/3 (modification: regular push up, kneeling push up)
2. Hanging Leg Raises x 5 (modification: laying leg raises)
3. Backward Lunge Dumbbells press (12lb dumbbells) x 10
4. Pull Ups x 2 (if you're using a dip station do 5 quick reps)
5. Ball Roll Knee Tuck (abs) x 10 (modification: Plank knee tucks)
_______________________________
15 min AMRAP – do as many reps as possible going through the circuit over and over until the time is up. Write down your score so that you can beat your personal best the next time.
Add to my favorite workouts
You can access your own personal list of favorite workouts in the My Account section. Click the My Account button at the top of this page.
You must have an active ZGYM subscription to access the favorites feature.