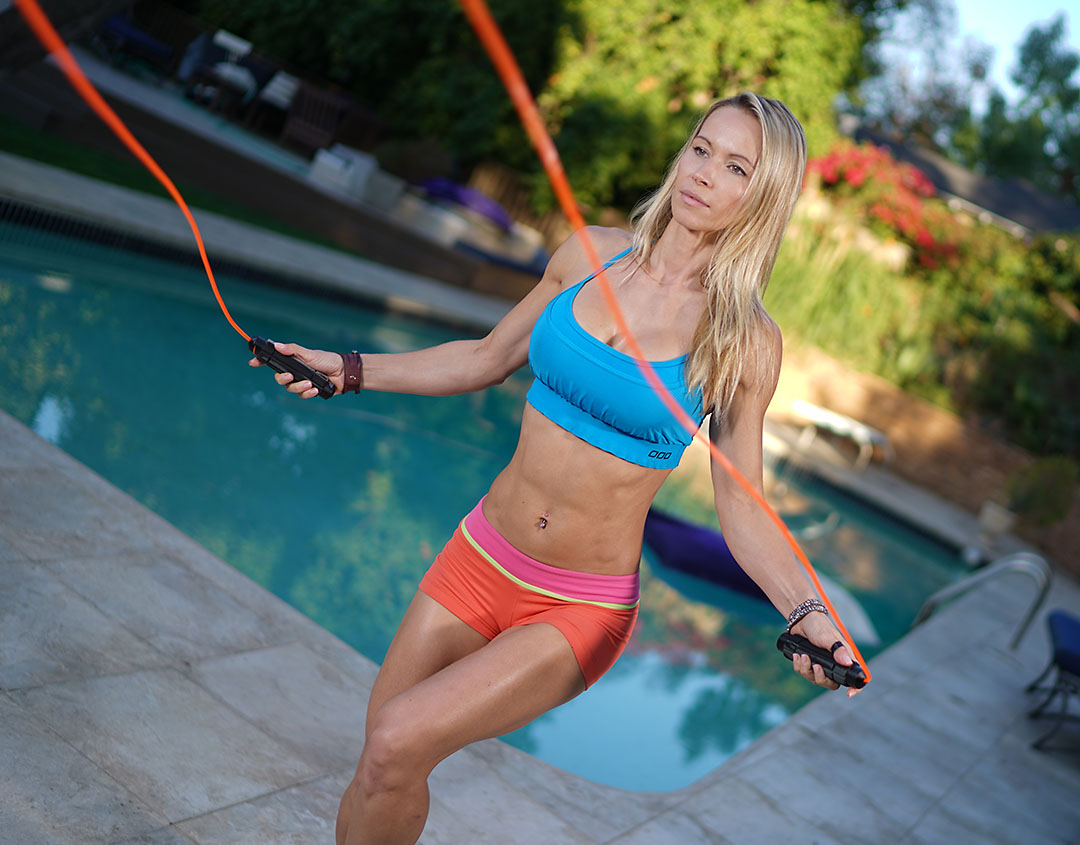 You are probably familiar with the jump rope ever since you were a kid. You've probably even had one as a teenager, and it might still  be in your parents basement with the rest of your childhood belongings that neither you or your mom have the heart to get rid off. Maybe you've always looked at it as one of the many toys you had. Well, now it's time to start playing again, because you've been missing out on so many benefits that rope jumping brings to the table:
1. It's one of the most intense cardio workouts you can do – the more intense your training is, the shorter it can be, saving you a lot of time in the process and you will still be burning calories hours after your workout.
2. Jump rope workouts are great for weight loss – if you have some extra pounds to shed, including jump rope into your workouts on a regular basis will speed up the process by a lot.
3. Jumping rope builds muscles – you don't need to worry about getting big bulky arms and shoulders, but if you like to have visible muscle tone, regular exercise with a jump rope can easily deliver. Skipping rope is so intense, it requires and a lot of muscle contraction activating the fast twitch muscle fibers that will make you look athletic.
4. Jump rope will make you a better athlete  –  you can develop a great athletic endurance, agility and cardio with rope jumping drills. Fast feet, quick reactions, and increased lung capacity.
5. Keep your cardiovascular system healthy without having to go for an hour long run – another benefits of jumping rope is that all you need is 10 minutes a day in order to improve your cardiovascular system and keep your heart healthy and strong. You don't even have to leave the privacy of your own home.
6. Jump rope is affordable and easily portable – You can have the top of the line jump rope for only $22 and enjoy your training almost anywhere you go. Jump rope can easily fit in your purse.
7. Jump rope improves confidence and reduces anxiety – anytime you're learning a new skill that requires your full attention, you're escaping your mind that is constantly trying to create pain for itself. It's a form of meditation. You will give yourself the much needed break from constantly mulling over your past or pondering about your future. Give yourself the gift of focus and motivation to learn a skill you can be proud of. Not everyone can make jumping rope look easy and graceful, yet it's not as hard to learn. It's all about patience and consistency.
What jump rope should you get and where to purchase it? 
I found my personal favorite jump rope on Roguefitness.com.
I'm a girl with small hands so I got a short handle bearing speed rope which makes learning new techniques a lot easier for me.
There are a lot of fun workouts using jump rope in the ZGYM called Jump Rope Cardio Series and I have just posted another Jump Rope Cardio workout for complete beginners so you can start your journey today.