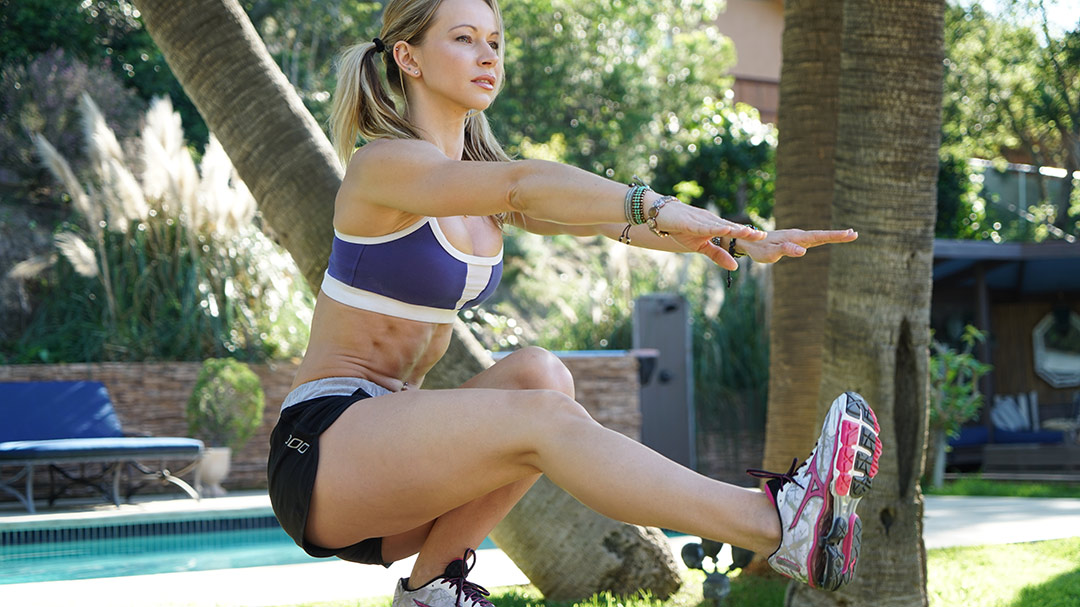 Pistol squat is one of the first challenging bodyweight exercises I mastered already 8 years ago, and as much as I'm proud of it, there's one thing that makes me even more happy and accomplished – when I can pass this skill on you and see your progress. The pistol squat is on of the best bodyweight exercises for developing your lower body strength and it's a highly functional, compound move which will help you to also burn a lot of calories and get lean if you incorporate it into your training. It's also an awesome party trick if you can do it in your high heels 🙂
After all these years of reading your comments, and talking to some of you on my fitness events or even randomly on the street when we ran into each other, I have finally came up with the bulletproof approach to Pistol Squats. It was a learning curve for me too, and thanks to your comments and guidance, the lightbulb in my head went off: The most common problems when it comes to Pistol Squats are:
the lack of mobility and flexibility in the lower part of the leg
the lack of muscle/brain connection that helps trigger all of the muscles in the leg simultaneously and makes them work as a unit
In today's video I will show you a few tricks that will take care of the problem:

If you're a ZGYM member here's your Pistol Squat workout for today where you can practice the exercise and tricks you just learned.
How much and how often to practice:
practice daily if you can until you master the move. You can take one day a week off.
Start with the easiest modification and try to work your way up to 10 reps per set. Complete 3 sets a day.
As soon as you're comfortable with the easiest modification, remove one of the tricks you've been using and start working your way up to 10 reps per set again. Even if you can do only one rep at a time. Repeat this same approach until you remove all the tricks and can do at least one perfect pistol squat.
Once you're able to do one pistol squat, you'll be working on strength endurance and try for more reps. If you stick to consistent practice, you'll be doing pistol squats in no time.
Add to my favorite workouts
You can access your own personal list of favorite workouts in the My Account section. Click the My Account button at the top of this page.
You must have an active ZGYM subscription to access the favorites feature.