Do you want to start exercising on a regular basis, but don't know where to begin? If you want to start working out, but you're feeling intimidated by more advanced and challenging workouts, then you may want to start with something basic. I have put together a simple bodyweight workout for the average beginner that wants to work on proper form, flexibility, mobility, strength and endurance.
Beginner Workout breakdown:
1. Bodyweight Squat – 10 reps followed by 3 Burpees
2. Backward lunge into Squat – 10 reps followed by 3 Burpees
3. Backward lunge into Squat (other leg) – 10 reps followed by 3 Burpees
4. Side Lunge – 10 reps followed by 3 Burpees
5. Side Lunge (other leg) – 10 reps followed by 3 Burpess
___________________________________________________
Repeat this circuit 4 times. Focus on proper form – no rounding your back when doing the squats and lunges, keep your abs tight, and make sure that your knee is always pointing the same direction as your toes. Do not skimp on the jump up when doing the Burpees. You have to challenge yourself so being out of breath is completely normal and 3 Burpees are not going to kill you.
If your goal is to be able to do the Body Crush and Cardio Shred workouts, then remember that it's all about  learning the proper form of the basic bodyweight exercises. I don't expect you to keep up with me immediately, because you can always pause the video or just complete as many reps as you can while I do the full set. It's all good. As long as you can do each exercise with great form, you can start challenging yourself with high intensity workouts.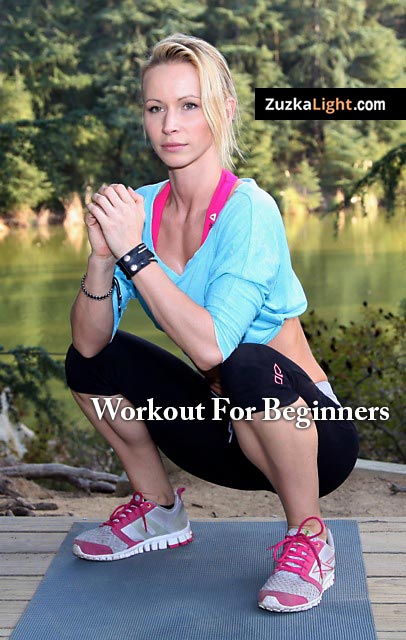 You can do this workout every day or every other day and as soon as you feel confident that your form is perfect, you can try to go for more intensity and pick up the pace. Eventually I want you to try to complete the 4 rounds as fast as possible. I have a few  Beginner Workouts in the Zgym and I'm adding new ones almost weekly.
Have fun and if you have any questions or things you'd like to share, then please leave me a comment below.
Best,
Zuzka.